Last Saturday I strolled down Peachtree Center Ave. and passed Darth Vader eating breakfast with his ten-year-old Luke Skywalker son. On my way to the Sheraton Hotel, I smiled at the crew of Starship Enterprise, waved at Kakashi-sensei and briefly stopped to give Batman directions. Dedication and excitement were a perfume misting off the streets. Unfortunately that mist smelled like make-up and bodies trapped in hot costumes. It was that time again. Dragon*Con was back.
[media-credit name="Sho Kitamura" align="aligncenter" width="1024″]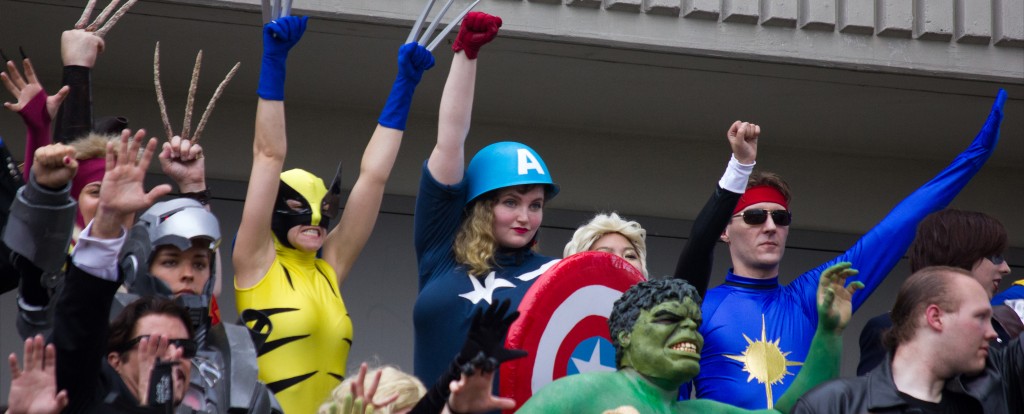 [/media-credit]
My ticket alone was worth the price to sit in the lobby of the Marriott and people-watch. Or ninja-watch. Or demon-watch. Or ninja-demon-watch.
You get the picture.
The only downside to the mass of vibrant costumes was that at the end of the day I was numb to them all. I was used to seeing monsters and time traveling doctors to the point that my eyes simply glazed over Zelda and Link texting in the corner. Nevermind that I began to view people dressed normally as freaks.
That Saturday morning the Dragon*Con parade marched through the streets with a vigor only fanboys and fangirls possess. Open to anyone who registered ahead of time, the parade contained the most elaborate costumes of the event and even a few decorated vehicles. It is free to the public to watch the parade, and it is also considered a highlight. This year's parade was no exception as Ghostbusters, Airbenders, Starship Troopers and even the Old Spice Guy marched their way through the heart of the city.
The panels, however, were the main draw of the sci-fi and fantasy convention. The topics this year ran the gamut: from discussing the Whedon-verse to how to write the erotic sections of a science fiction book.
Each year the panel list grows. This year's newest series of panels focused on the many aspects of video games and proved to be a big hit, drawing large numbers of fans. Dragon*Con had the most esoteric subjects covered.
These events drew large audiences, as the panels hosted celebrities of one form or another. Flipping through my Dragon*Con Program Book, names like Stan Lee, Felicia Day, Laurell K. Hamilton and Alice Cooper represented the tip of the celebrity iceberg. Most of the special guests were gracious enough to stay longer than their allotted times to sign copies of their work. I was able to  get Brandon Sanderson's signature on my hardback Mistborn novel.
Aside from the many celebrities, there was another major perk of the convention. It was a secondary  financial hit after paying for the badge, but it was worth it. I'm talking about nerd swag. I bought an X-Men print, as well as a Mass Effect one in the artist gallery. I was also tempted to buy more half-priced graphic novels than I would care to admit and was also tempted to purchase a Pikachu keychain dangling next to a Halo Kitty t-shirt.
Dragon*Con couldn't be conveyed to its fullness without mentioning the after-hours parties. Darth Vader and Obi-Wan Kenobi were dancing at raves, and multiple X-Men were milling around drink tables.
The only complaint I have with Dragon*Con is with its crowd control. Not that policemen needed to be stationed with riot gas, but in assisting everyone move from one place to another. The line to get a badge had a wait of two or more hours. The volume of people was a double-edged sword. On one hand, the insane number of people allowed for incredible diversity and creativity, but on the other hand, it made getting around the event a suffocating quest, both figuratively and literally.
The drawback of the large crowd aside, Dragon*Con was a truly fantastic experience. Last weekend was my third time attending, and I fell in love with it the first time I attended. If anyone ever asks if it is worth the price, I never fail to respond that is completely worth it. Where else can a life-size robotic R2-D2 whistle its way in front of you as Halo Spartans pretend to shoot down Loki?
No matter what planet, galaxy or nebula conference-goers may hail from, despite which federation, faction or clan you represent, Dragon*Con is and will always be a chance for everyone's inner super hero, alien or wizard to roam free amongst peers for one glorious unforgettable weekend.