Asher Lev is a Hasidic Jew born with a remarkable gift for the arts. Torn between his faith and his artistic impulses, My Name is Asher Lev follows a young man's struggle to balance the two until he is ultimately forced to choose. The story is told from Asher's point of view, as far back as the age of four when he created his first drawing. The audience sees him grow and mature, both as an artist and a person.
[media-credit name="Josh Lamkin, Theatrical Outfit" align="aligncenter" width="900″]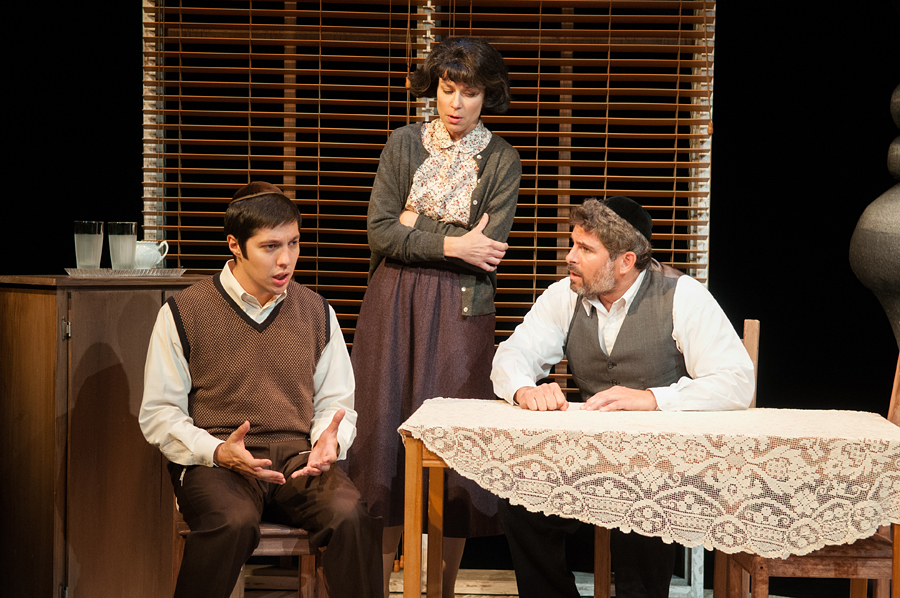 [/media-credit]
As a boy, he has an insatiable desire to draw everything he sees, exactly as he sees it. His father is a rabbi, traveling the world to spread the practices and teachings of the Jewish faith. At a time when Jews are being persecuted in Soviet Russia, Asher's father considers his work more important than ever and is unable to understand his son's artistic obsessions as anything more than child's play. When he finally realizes that Asher's passion for the arts is more than a passing phase, the rift between them widens. All the while, Asher's mother is caught in the crossfire, pushed to the brink of insanity by the ill-fated death of her brother and terse family situation.
Originally a novel, this stage adaptation is performed by three cast members. Asher is played by Nick Arapoglou, all of the women are played by Lane Carlock and the rest of the men are played by Brian Kurlander.
Although Arapoglou is outstanding as Asher, he is also given the most time on stage without having to change characters.
Carlock haunts the stage as Asher's mother during one of the play's most powerful scenes: bed-ridden and depressed, she stares off into the distance as she asks her son to draw the world beautiful, "the way it should be." Kurlander is equally impressive as Jacob Kahn, a non-observant Jew and a skilled artist who becomes Asher's friend and mentor.
Early in his apprenticeship, Asher paints a picture of one of his classmates. Immediately after seeing the painting, Jacob scolds Asher for lying to himself and the canvas. Jacob explains to Asher that an artist has a single responsibility: to tell the truth through their works, even when others will not accept it.
Along with its excellent cast, the play also demonstrates effective technical choices. A number of the play's earlier scenes are portrayed with Asher present, but not physically represented. The audience can clearly see where Asher should be, given context from other characters, but Arapoglou often narrates from off-stage, as if to replicate the speaker being unable to picture himself in the situations first hand.
The play's soundtrack is comprised mostly of violins, perfect for creating an eerie ambiance during scenes with a fevered pitch. In spite of only having two major set pieces, the performance space never seems confined. A giant scale stands over the back of the stage, tilted slightly to one side as if to foreshadow Asher's inevitable inability to balance that which he holds dear.
My Name is Asher Lev is a story worth telling, addressing the universal dilemma of a community condemning the beliefs of the individual.
While there may not be a conflict in the mind of the individual, it is the collective that deems what is and is not socially acceptable. When faced with the decision to compromise our own beliefs, what should we choose?