Not quite sure what to expect walking into the Fox Theater to watch The Addams Family (running Aug 14 -19), but at the end of the night I walked out into the Atlanta streets absolutely amazed by the performance just witnessed.
[media-credit name="Jeremy Daniel – Theater of the Stars" align="aligncenter" width="577″]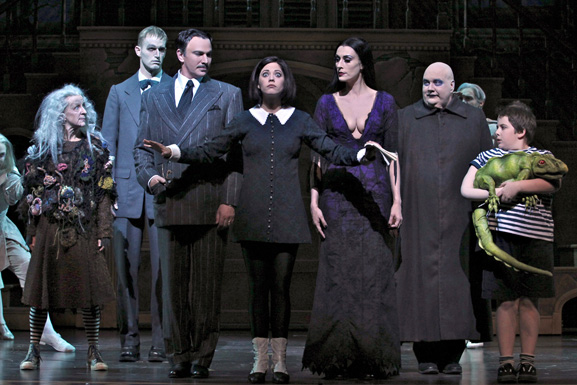 [/media-credit]
The quality performance by the cast was top notch (which shouldn't be a surprise since they consist of a few Tony nominees). Douglas Sills put on a marvelous performance as Gomez Addams, the passionate lover and the caring father, he was the whole package and executed it to perfection. The humor was great; a smile staying on the audience's faces throughout the whole show with a burst of laughter at every punch line, after all who doesn't love a Charlie Sheen joke?
The storyline follows Wednesday Addams as she falls in love with Lucas Beineke, and after his marriage proposal she invites his family over to have dinner with the Addams. Uncle Fester (Blake Hammond) hilariously narrates all along. It was a very traditional storyline with very few twists and turns; not the most exciting plot but it does not affect the entertainment value of the play.
The songs were all well written, but the cast definitely made them sound even better. The whole cast was very well harmonized in all the group performances and the solos sang beautifully. An obvious highlight was Courtney Wolfson's vocals as Wednesday; she had a "teen pop-star" type of voice that was very pleasant and clear.
The Addams Family is a play very much to be enjoyed and definitely worth a trip to the Fox. There's no heavy moral behind the storyline, no tragic ending, it is a musical that simply requires you to sit back, relax and enjoy the show.