Little Five Points' Horizon Theatre transformed last Friday, July 13, into the backyard man-cave of Walt and his friends in the world premiere of Tom Jones' latest comedy Sheddin'. Self-described as a "comic ballad that underscores men trying to recapture their dreams," Sheddin' rolls high with laughter, filling the lolls with the acute poignancy that comes from family and friends.
[media-credit name="Horizon Theatre" align="aligncenter" width="337″]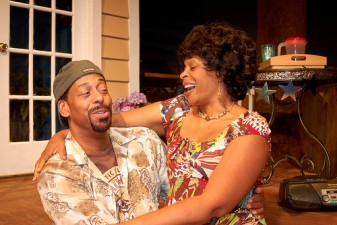 [/media-credit]
Plot wise Sheddin' is little more than an update to Guess Who's Coming to Dinner with the return of the prodigal son with new wife in tow. However, in Jones' play the wife is not white, but rather the Korean pop-sensation E'Boa. The biggest problem is not her race, but rather her replacement of the parent's in their son.
The play begins with friends Walt (Jones himself), Moses (E. Roger Mitchell) and Otis (LaParee Young) rehearsing as the new opening act for Walt's son, hip-hop superstar Trane (Enoch King). In the first half the laughs are abundant while the friends horse around and Walt's wife Ruthie (Donna Biscoe) shows them who's boss. The good times take a turn for the worse though when E'Boa is presented as both their son's fiancée and opening act.
The first act succeeds largely based on the comic chemistry between the four adults, and the awkward situations that arise from the young couple. However, the second act falls prey to occasional presumptuousness as the play suddenly touches briefly upon many serious topics from incest to the lust for forbidden fruit while never making a clear statement on any of them.
However, Sheddin' still offers a unique glimpse into modern Black life in the new politically correct world. The men find themselves on the edge, sometimes making ignorant, downright racist jokes – while the problem they have is not race at all. Instead it is the trio, especially Walt reacting to the loss of his dream and being forced to accept settling.
Each character is a joy to discover, especially as more is revealed about them – some with more surprising secrets than others. The six actors each fill their roles without reserve, from the man-whipping E'Boa to the crooning, drunken, womanizing Otis (who is a Capricorn).
Most perturbing though is the portrayal of a so-called Korean woman, as a stereotypical, hypersexual, tantric beast of hunger. Asian women can be far more than just sex-crazed nymphomaniacs and scholarly, reserved brainiacs. Matters are made worse by the gross mispronunciation of simple Korean phrases, even by the one who is supposed to be Korean. In the second act though matters become confused when her character's innermost secret is revealed, confusing any statement, positive or negative, that might have been made.
Aside from a convolution of secondary themes, the play hold strong and offers more than enough entertainment. Highlights for anyone will be the energetic song and dance numbers as old school doo wop meets modern hip hop. And the jokes are often painfully funny, though be warned the language is not for children. Sheddin' in its main theme of an acceptance of a new generation and times as an old one passes away, more than succeeds with a happy-go-lucky ending that is almost frivolous with an almost deux ex machina  ending. Sheddin' continues its premiere run at the Horizon Theatre through August, so be sure to catch some of Atlanta's most talented actors in a raucous comedy sure to please.