24 years prior to the release of Pixar's latest feature, Walt Disney Animation Studios was technologically incapable of animating curly hair. In fact, The Little Mermaid's titular character was originally intended to don curly locks.
While Pixar's animators successfully trump this technological hurdle and construct an elegant portrait of the Scottish highlands, Brave falls palpably short of the animation studio's long-running gold standard.
[media-credit id=7 align="aligncenter" width="555″]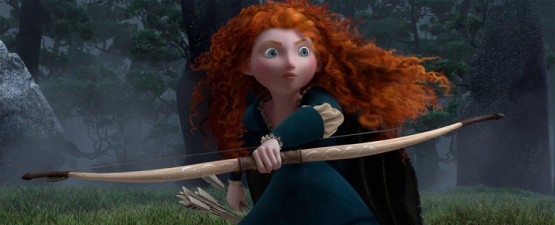 [/media-credit]
The film follows the plight of a Scottish princess, Merida (Kelly Macdonald), who is doomed to betroth the dopey heir of a neighboring clan. In spite of the queen's attempts to cast her daughter in the image of a delicate lady, Merida's temperament reflects her fiery head of hair: in an act of defiance, she tears apart her silken dress and resolves to compete for her own hand in an archery contest.
Brave undoubtedly bears a promising premise. Director Brenda Chapman crashes Pixar's usual sausage fest to develop a dynamic female lead with solid audience appeal and compelling motivations—Merida's internal conflicts even echo the contempt for societal expectations that characterize Aladdin's Princess Jasmine and The Little Mermaid's Ariel. Unfortunately, the production soon stoops to the level of a genuine children's film as screenwriters Chapman and Mark Andrews incorporate generic elements of fantasy, including ghostly apparitions and a witch with a hook nose.
It is important to note that Brave is, on the whole, a good film. Macdonald (No Country for Old Men) and Emma Thompson (Much Ado About Nothing) present convincing vocal performances with musical Scottish accents, Pixar's animators craft potent slapstick gags, and the film offers a poignant exposition of the mother-daughter relationship. The plotline and production value are entirely up to par with any animated feature on the market; however, Brave lacks the wit, whimsy and edge of the average Pixar film.
It is almost disorienting to watch a Pixar production that breaches no cinematic or artistic conventions. While the animation studio's past features have explored the ecosystems that surround Australia's Great Barrier Reef, the personal lives of retired superheroes and the microcosm of a child's toy chest, their latest effort regresses to the rote formulas that typify Disney's classic fairy tales. The role of magic in the film offers convenient loopholes for its writers, and Merida inevitably reconciles with her mother after learning the dangers of disobeying her parents' wishes.
Pixar's 13th feature film misses the mark of its predecessors, but it serves as a proper consolation for Cars II. Pixar will most likely continue to produce sequels and rerelease films in 3D in an attempt at milk cash out of past box-office hits, but Brave stands as a testament to the animation studio's capacity and willingness to create new material.