A bold new spin was put on the legend of our 16th President this past week with Abraham Lincoln: Vampire Hunter, which premiered on June 22. From the director of Wanted, the slasher flick reveals the secret life of Abraham Lincoln as a slayer of supernatural monsters. However, while its premise certainly has originality, Vampire Hunter falls short of successfully combining history and fiction.
The film begins with a young Lincoln witnessing the death of his mother at the hands of a vampire, causing him to begin a life of vengeance against the entire vampire race. Years later, an adult Lincoln (Benjamin Walker, Flags of Our Fathers) continues to seek and destroy the monsters hidden within 19th century society. With the help of a fellow experienced vampire hunter (Dominic Cooper, Captain America), Lincoln uncovers aw plot by the head vampire (Rufus Sewell, A Knight's Tale) to take over the U.S.. In addition to his supernatural fighting habits, Lincoln must also contend with his love for the beautiful and resourceful Mary Todd (Mary Elizabeth Winstead, Scott Pilgrim vs. the World), and eventually with his position as President during the years of the Civil War.
One of the main problems with Abraham Lincoln: Vampire Hunter is that it fails to take advantage of its title character. The protagonist really could have been any random person, and the fact that it is Lincoln weakens the story rather than giving it an original flair. Scenes dealing with slavery or the White House seem like unnecessary interludes thrown in to justify the "Lincoln" persona, convoluting the already far-fetched plot. Perhaps if the plot had been more grounded in and dependent on historical aspects, then the film would have been easier for viewers to latch onto; however, as it stands, Vampire Hunter just cannot properly pull off the union of historical fact and supernatural fantasy.
In addition to its awkwardly-paced plot, the dialogue in the film sounds as if it is read directly from the script and lacks a realistic tone. This may be due to the less than A-list cast that the film sports. Indeed, Walker is practically a newcomer to the spotlight, this being his first major role; a more experienced actor may have been the better choice for such a lead role, especially one depicting one of our most influential and famous presidents. Cooper fares a bit better as the veteran hunter who mentors Lincoln throughout the film, providing viewers with a performance similar to Liam Neeson's in Batman Begins. As for Sewell, his performance as the lead villain is hardly memorable. In fact, Vampire Hunter tends to focus more on explosions and 3D gore than character development, and as always, it is up to audiences to decide if this is a favorable characteristic for a movie to have or not.
All in all, Abraham Lincoln: Vampire Hunter will not be the center of attention come Oscar season, mostly due to its lack of memorable performances and a plot that just hits par. History buffs may appreciate the well-reenacted Civil War scenes, but as the film is about Abraham Lincoln being a vampire slayer with ninja skills, such viewers may be deterred from coming to see the film in the first place. Perhaps with a few more interesting characters, the film would have a better blend of action and drama and seem less like a comic book being read out loud. However, as it stands, Vampire Hunter falls far short of becoming even one of the better movies of the 2012 summer blockbuster season. [media-credit id=7 align="aligncenter" width="741″]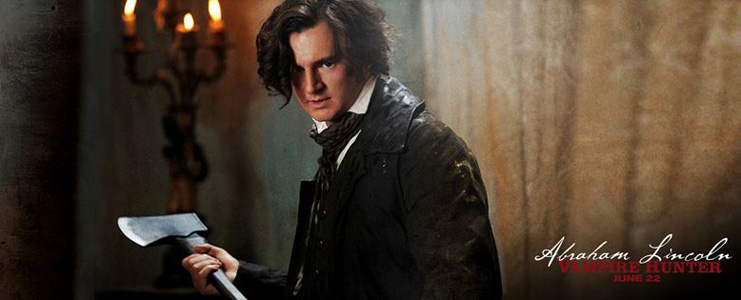 [/media-credit]