Best known as part of the trio Nickel Creek that rose to fame and success in the early naughts with their clever modernization of bluegrass and with backings from the likes of Alison Kraus, Sara Watkins continued her solo career before a full house at Smith's Olde Bar last Friday, June 9. The concert was in support of her second solo album, Sun Midnight Sun, and featured her signature stylings of bluegrass-tinged folk rock and expert fiddling.
[media-credit name="Yi Hsin Wu | Technique – The South's Liveliest College Newspaper" align="aligncenter" width="337″]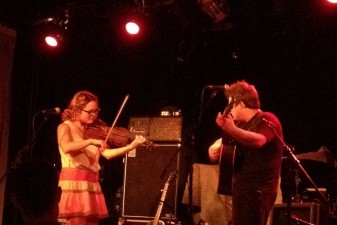 [/media-credit]The early evening show began with openers the Black Nightingale from Atlanta, playing their debut show. For a first outing they showed a remarkable amount of confidence, the four-piece outfit playing through their own original compositions. Though they are certainly capable musicians, their set lacked variety consisting solely of ballads that were remarkably similar. However, despite this and an underuse of their available resources (especially the fiddle) they show a great deal of promise in developing into an Atlanta mainstay.
After the four had vacated the stage, Sara Watkins took to the stage with only her former bandmate and brother Sean Watkins, producing a fuller show with only two people than most groups. The show was an astounding mixture of clean vocals, pleasant melodies and extremely intricate and skilled bluegrass. However, even those that do not normally enjoy bluegrass could easily do just that thanks to Sara Watkins' continued mix of rock, folk and country.
Nickel Creek broke new ground through their whole career as a band of child prodigies creating their own genre of "progressive bluegrass".  With Sara, the fiddler, and Sean, the guitarist, playing together yet again it would be easy to cry that it is a reunion concert of the group (almost), yet it would be seriously short-selling Sara Watkins to boil it down to that.
The truth is Watkins has only improved and built upon her already solid foundation as an artist and used her former career as a launching point, never looking back. Her set list did not include a single song from her past band, instead she opted for a night that comprised of her own creations and a few select cover songs (if you can call them that with all their reworking).
From the Tom Waits cover "Pony" through her own "hit-making" song "When It Pleases You" Watkins exuded confidence and always provided solid entertainment through the evening. Her fiddling is as good as ever, giving her a semi-legendary status in the industry, and her vocals have grown stronger since her days with the band.
Also notable, and integral to a good concert, was the always entertaining banter between the brother and sister. Whether joking about sushi and ginger or Fiona Apple's shoes, they maintained a good spirit and fully engaged the rapt audience. Sara Watkins is also more than woman enough to sometimes step aside, letting her brother take the stage, joking "there's only so much chick rock you can take in one night".
A concert by Watkins (either of them) is a night sure to filled not just with great music, but also awe-inspiring displays of raw talent. The true pleasure in music is not just in the writing and melodies, but also in the delivery which Sara Watkins brings to audiences lucky enough to see attend her shows.