Near the beginning of the 2000s, a Latin wave hit America, and though it receded rather quickly, the likes of Ricky Martin and Shakira have not been quickly forgotten. After pure, unadulterated pop passed, the beats of reggaeton dominated popular America's Latin awareness. All of this has been from the Caribbean or Central or South America though, and never from the birthplace of the language: Spain.
[media-credit id=15 align="aligncenter" width="555″]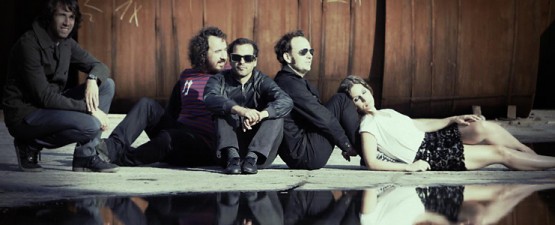 [/media-credit]Proper Spanish music sounds quite different from its overseas counterparts, eschewing the passionate rhythms, blasting horns and pulsating beats. Instead, Spanish artists opt for a more pop-rock, European sound more common to their continent. Despite these differences, Spanish pop has still found its niche in the Latin music market, with catchy choruses and sappy ballads. Last year, two of the most prolific and popular bands from Spain released new material hoping to once again make it onto Latin airwave charts.
La Oreja de Van Gogh (LOVDG, Van Gogh's Ear) is one of the most popular bands, rising to fame outside of Spain with ballads like "La Playa" (The Beach) and "Rosas" (Roses). Despite a change of lead singers in 2007, the group maintains their signature pop sounds with hooks and joy abounding from every song with infectious shalala's and ABBA-esque vocals. Their latest release in September, Cometas por el Cielo (Comets Through the Sky) is the second album of new material featuring new lead singer Leire Martinez, who fully assumes the role.
On their last outing in 2008, while the song-writing was still more than excellent, Martinez struggled to fill the iconic role of former lead singer Amaia Montero. The split upset fans, but in retrospect things seem better than ever, with Montero releasing her own solo material. Both band and singer have shaken off the break up and continue to produce their signature music, never repeating each other.
Amaia Montero, either by a fluke or by some other driving force, has released both of her solo albums just months after LOVDG's new releases—never letting fans forget she was and still is the voice that brought them to fame in the late 90s. Her Basque accent remains more charming than ever, with the famous Spanish lisp in full force. Montero's 2, like her eponymous debut, does not stray for her roots but opts for a quieter, more subdued sound, losing the rock band backings of her former band mates. Both efforts are worthwhile listens, each providing a different experience.
Another band, Amaral, whose hits stretch as far back as LOVDG's and whose release schedule virtually mirrors theirs as well, again follow suit with their own album Hacia lo Salvaje (Into the Wild). Though they have not had major hits overseas, Amaral's singles have remained staples in their motherland. Their sound is more sonic and full, with the throaty vocals of Eva Amaral soaring through every track. Past hits like "El Universo Sobre Mi" (The Universe Over Me)  and "Kamikaze" used this to full effect to create songs of passion and life, which continues in new songs like the titular "Hacia lo Salvaje."
Whether a listener is trying to practice Spanish with a Spanish accent or just wanting to listen to some quality music, these three groups are a great place to start. Spain has no shortage of pop groups, such as the more rock-based El Canto del Loco, wistful Nena Daconte or classic but long- defunct Mecano.
With catchy melodies and lyrics better than any radio-pop stateside, these Spanish acts are sure to please and find a place in anyone's music library who gives them the chance.