Whether enjoying some free candy or cookies along Tech Walkway, admiring the moss graffiti in Skiles Garden or noticing students wearing T-shirts with poems on them around campus this week, Tech students can be seen actively participating in National Poetry Month.
[media-credit id=179 align="aligncenter" width="300″]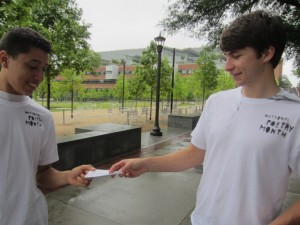 [/media-credit]
Since 1996, April has served as a time to celebrate, appreciate and raise awareness of poetry across the United States, starting through the efforts of the Academy of American Poets.  Since this introduction, hundreds of thousands of free collections of poetry have been distributed every April, Bill Clinton and the White House have embraced its acknowledgment and the Empire State Building was even illuminated with blue lights to mark the 10th anniversary in 2005.
However, for the first time in its seventeen-year history, National Poetry Month is being observed on Georgia Tech's campus.  One of Tech's own English professors, Brittain Postdoctoral Fellow, and published poet—Jennifer Lynn Holley—inspired her three English 1102 classes to use whatever creative means necessary to spread the delight of poetry to the fellow student body.  By allowing complete inventive freedom for this project, students conceived of a wide variety of methods to draw attention and ignite the curiosity of any- and everybody passing through campus.
Students immediately set out to chalk the entirety of Tech sidewalks, both to direct people to poetry events taking place on April 18 around Tech Green and to add some beautiful art and favorite lines from student chosen works.   Even through the rain, Winnie-the-Pooh excerpts and poems about maddening alarm clocks could be seen beneath students' feet all around.
Other students contributed to the widespread excitement through copious channels.  Many formed groups to hand out baked goods with slivers of verse.  Some started up a "spontaneous writing booth" to impulsively yet artfully write requested poetry on the spot.  Others created fliers and spread the buzz through word of mouth.  A few handed out Easter eggs filled with lines of poetry.  As the rain pounded outside on Wednesday, students created "poetry origami" to place strategically around campus.  One group even painted a special concoction in the Skiles garden to create a growth of moss in the words, "Poetry of Earth is never dead."
"I had no idea that such a large, united alliance existed for poetry at a school like Georgia Tech," stated one of Holley's freshmen students, Ciana Ferden.  In fact, many are surprised to learn about the outlets for both writers and appreciators of the art of poetry.
In fact, the School of Literature, Communication, and Culture has housed Poetry @ Tech since 2002 and now serves as "one of the premier showcases of poetry in the Southeast."  Through helpful donations and pure passion, Poetry @ Tech is able to provide multiple recitations each semester from some of the nation's most renowned poets.  LCC courses, some English classes and numerous free workshops specifically focused on poetry are also offered, ensuring that students' passions for the humanities are cultivated and cherished even at such a technical, math-based institute.  Additionally, the launch of this year's Erato literary magazine—which publishes amateur student work—coincides with this time to appreciate and take notice of the art.
So, while bustling and struggling to prepare for finals come May, take some time to look around and look within and enjoy the beauty of National Poetry Month.