It would be accurate to say that the majority of recent college students grew up to the music of Jason Mraz. Whether jamming along to the Grammy-award winner's hit "The Remedy (I Won't Worry)" back in 2002 or playing "I'm Yours" on perpetual repeat since its 2009 release, Mraz has proven himself to be a timeless, captivating, multi-hit wonder.
[media-credit id=15 align="aligncenter" width="338″]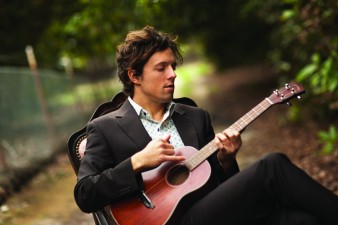 [/media-credit]
Now, the Virginia-bred, pop-rock singer-songwriter finally released his long-anticipated album, Love is a Four Letter Word, on April 17.  After beginning work on the project back in Dec. of 2009, Mraz continually postponed the release date as he tweaked the playlist and acoustics to perfection.  "For most of this album process, it was about taking my time and getting to know who the heck I was," stated Mraz in a Billboard.com interview.
After one single, "I Won't Give Up," debuted on iTunes earlier this year, it seems as though Mraz's meticulous developmental choices paid off.  The single peaked at #1 on iTunes and #8 on the U.S. Billboard Hot 100, which got fans motivated for the full-album release.
And the rest of the album does not disappoint, either.  As Mraz stated, "It's not a departure in the sound of the genre in any way; it's just different tones, different textures. Musically, I think people are going to like it. It's personal. It's melodic…it feels more like the pace of life."
For dedicated followers, Mraz's personal triumphs and tribulations can be seen throughout.  For instance, "I Won't Give Up" undoubtedly relates back to his broken engagement to his singer-songwriter fiancée Tristan Prettyman last summer.  In fact, the album as a whole deals with Mraz trying to follow his heart as he pursues both his passion for music and makes time to love the people in his life.
As Mraz anticipated, fans have been responding positively in the brief time since its unveiling.  Love is a Four Letter Word instantly became the top-selling album on iTunes.  The laid-back, lyrically-brilliant hits "Living in the Moment," "I Won't Give Up," and "The Woman I Love" top the popularity list, although "The World As I See It" and his cover of "The Freedom Song" serve as entertaining, upbeat gems on the disc.  Mraz's collaboration with Inara George "Be Honest" and the super-fast, "rap"-like track "You Fckn Did It" are welcomed breaks from the consistent melodies dominating the remainder of the album.
Although it took almost two-and-a-half years to complete this project, Jason Mraz has remained loyal to his fan base by producing a record that exudes his signature style of soft rock mixed with refined jazz charm and a wistful folk sound.  If already a fan, Mraz's latest work is sure to please; if not, Love is a Four Letter Word contains not much new otherwise