Although it may appear to be just another contender to the tired buddy cop comedy genre, 21 Jumps Street is actually well-worth the price of admission. The film, based off the 1980's television show of the same name, hit theaters March 16. And while the posters and advertisements pass it off as just another cheap action gag-real trying to justify its overinflated budget, this film does in fact have a plot that is refreshingly original, as well as a few noteworthy performances.
[media-credit id=15 align="aligncenter" width="300″]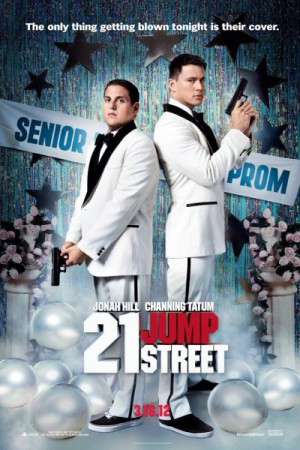 [/media-credit]
The story revolves around two best friends (Jonah Hill and Channing Tatum) in their mid-twenties who are fresh out of the police academy and ready for a life of Bond-esque action and danger.
After a few months of patrolling the park on bicycles and protecting ducks from harassment, they begin to doubt their career choice; that is, until they are assigned to an undercover mission to infiltrate the local high school in order to bust a drug ring. However, having to pretend to be high school students forces them to relive their own not-so-awesome high school experiences, resulting a hilarious clash of their early-2000's style and that of the modern teenagers they encounter.
Dave Franco (Scrubs), Brie Larson (Scott Pilgrim vs. the World) and Ice Cube (Friday) costar.
As far as its level of entertainment goes, 21 Jump Street benefits from the hilarious situations that always come with fish-out-of-water comedies, but it is not just the plot that makes this film worthy of a positive review. After being nominated for an Academy Award for his role in Moneyball earlier this year, Hill once again proves his strength as an actor able to produce both dry humor and laugh-out-loud moments. And although Tatum's performance may be slightly overshadowed by that of his partner, his humor complements Hill's rather nicely at points, allowing the audience a more engaging form of entertainment that neither of them could provide on their own. The supporting cast, comprised of both familiar faces and rising stars, also provides a steady stream of background comedy to fill in the gaps.
Looking at more recent entries in the buddy-cop genre, reviews have either been highly favorable or universally negative, so it was really a coin toss as to how critics would accept or reject Jump Street. Luckily for this film, it tended to follow in the footsteps of the more positively reviewed The Other Guys rather than the overwhelmingly panned Cop Out, both of which were released in 2010. High-powered action sequences contrasted against a high school environment create a breeding ground for a refreshingly unique blend of comedies. Overall, 21 Jump Street succeeds by keeping up a quick pace and a smart wit, never giving the audience any reason to look away from the screen.
On the whole, 21 Jump Street could be considered among the best action or comedy films of the 2012 film year so far. Of course, it is in no way a perfect film, but then again, not many are. What probably matters most to a potential audience member is that this film is well worth the ticket price, and will no doubt leave the viewer wanting more.