It takes a truly talented band to ignite a crowd and make the dance floor vibrate on a Wednesday night like the Tabernacle did on Feb. 29.
"I know you've all got things to do tomorrow and I appreciate y'all being here.…but at the same time, you can't rush these things, you know?" Bear Rinehart, lead vocalist, said.
[media-credit id=15 align="aligncenter" width="640″]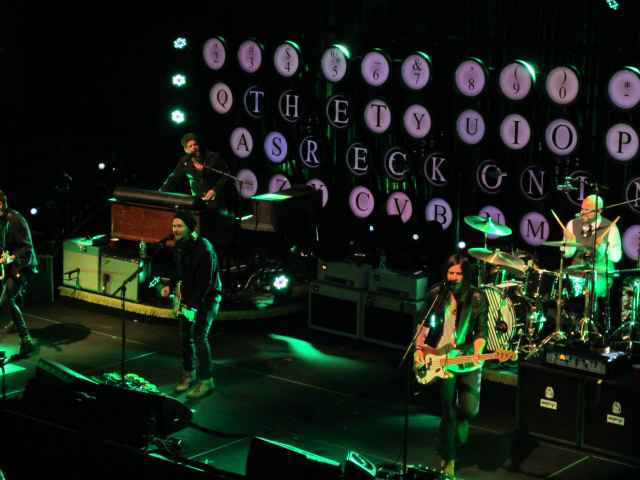 [/media-credit]Following his own advice, Bear and his trio of Needtobreathe band mates—brother and guitarist Bo Rinehart, bassist Seth Bolt and drummer Joe Stillwell—put on a memorable Leap Day performance.
This particular show, part of their five-month-long "The Reckoning" tour, was also a special show for the band. Bear announced to the audience that although he typically does not discuss personal matters with fans, his and Bo's younger sister had been rushed to the hospital earlier that day and was in premature labor. They would not have any news on her condition until after the show, which put a somber sense of anxiety on the night's mood. However, as Bear told the crowd, moments like these serve as a reminder of all of the blessings in life and inspire the deeper meanings behind the band's songs. Bear said that the Tabernacle was easily his "favorite venue in the world," and the South Carolina-based band proceeded to put on an energetic and extremely entertaining performance.
Virtually all aspects of the show combined to create a brilliantly unforgettable concert. Nashville-based singer-songwriter Ben Rector opened for Needtobreathe and helped to warm up the audience with his own popular hits, including "When a Heart Breaks," and unique renditions of classic songs such as Whitney Houston's "I Wanna Dance With Somebody."
However, Rector's laid-back tunes could not compete with the energy that Needtobreathe brought to the stage. The band erupted into a mixture of both upbeat and slower, more acoustic rock songs, complete with spirited percussion jams and jazzy harmonica solos. The band performed a multitude of songs from their 2011 album The Reckoning while also allowing the audience to enjoy a few well-known hits from previous albums—most notably, "More Time" from the film P.S. I Love You and their 2008 No. 1 hit on the U.S. Christian charts, "Washed by the Water." Old or new, they had the crowd dancing and singing along to both.
The music was not the only thing that made this concert a success. Anyone who has experienced a show at the century-old Tabernacle venue knows the magic that can be created there. Each seat provides fans with an intimate experience with their favorite band, complete with a thrilling light show and incredible acoustics.   In this specific show, a typewriter-esque backdrop that spelled out "The Reckoning" flashed in rhythm with each song's beat, lighting up the arena and igniting the atmosphere.
Even some of the seemingly rough patches of the show were easily smoothed over by the band's performance skills. For instance, when a talk radio station could be heard coming through the amplifiers, Bear merely laughed and welcomed the mishap, claiming that "right notes don't make the music." The band continued to present a friendly persona to fans by telling short, humorous anecdotes and even inviting an ordinary fan with an extraordinary voice from Saturday's sold-out show to sing on stage.
Overall, Needtobreathe made a strong case to be recognized as a strong, artistic band that can compete with the best rock and Christian artists. Although it has primarily been recognized as a warm-up act for Taylor Swift last year, Needtobreathe is quickly gaining ground with younger audiences . The band has even scored a spot in the 2012 Bonnaroo Music Festival in Tenn. as it continues its rise to prominence.