It has been 110 years since the first theatrical adaptation of The Wonderful Wizard of Oz in 1902. The Alliance Theatre celebrates this anniversary and brings the classic play back to the stage. Once again, the whole family can walk down the yellow brick road on this 70-minute journey.
[media-credit id=15 align="aligncenter" width="711″]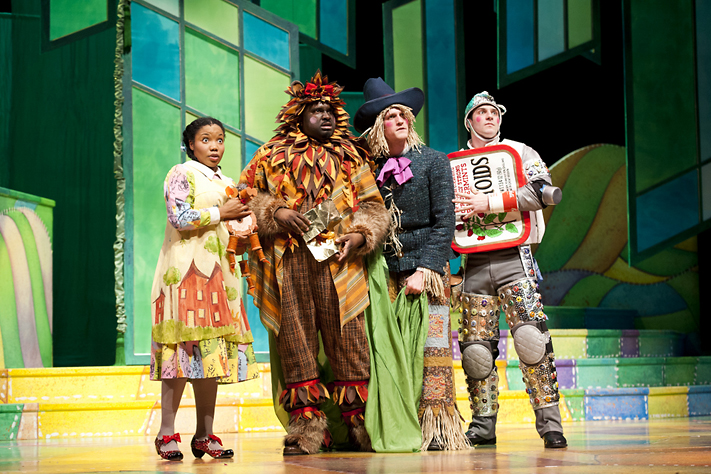 [/media-credit]Even though this story originates from the famous book by L. Frank Baum, the version the Alliance directs is based on the 1939 classic film directed by Victor Fleming. American television popularized this version and it has been aired repeatedly ever since 1956.
The Wizard of Oz tells the story of Dorothy Gale, a young child from Kansas who arrives in the land of Oz after a tornado blows away her house. Sharisa Whatley embodies this innocent main character. Whatley's performance grows as the plot develops, due in part to her playful empathy for the Scarecrow (Lowrey Brown), the Tin Woodsman (Jordan Craig) and the Cowardly Lion (Brad Raymond).
Reay Kaplan, another cast member, also deserves mention. She displays great artistry enacting Kikko and manipulating The Crow. While the first character is the head winged monkey, the second one is a bunraku-like crow puppet. To embody a non-human character like Kikko, Kaplan invests a lot of energy. She has to move in unfamiliar ways at all times.  Moreover, puppeteering the Crow demands her full attention in the mechanical operation while maintaining a convincing performance.
Besides the cast, the production team earns recognition too. The Wizard of Oz employs clever techniques to mimic depth and long distances. The producers display certain items on the center stage at one moment, and immediately after, the same item shows up again on a smaller scale in the upstage. This succession gives the audience the sensation of movement along an open space.
Within the story, the Land of Oz represents the human drive for improvement: cowardice in search of courage, naivety looking for wit, indifference wanting to turn to tenderness and solitude hoping to go back home.
The play may refer to two separate worlds, but the constant struggle of good versus evil connects both. After all, while some witches torment their lands with cruel enchantments and flying brooms in Oz, others just need unfair laws to infuse fear in Kansas. Nonetheless, this play proves that fellowship and love are stronger than any evil deed.
Overall, The Wizard of Oz promises a magical, entertaining moment for the family while exposing a deep truth: There is no place like home.