Last Tuesday, Feb. 28, the Student Center Programs Council (SCPC) held its first Tech Idol competition. The event was hosted by Mr. Georgia Tech, Jacob Tzegaegbe, and showcased the talents of 12 students, four of whom went on to participate as finalists in the second round.
[media-credit id=15 align="aligncenter" width="711″]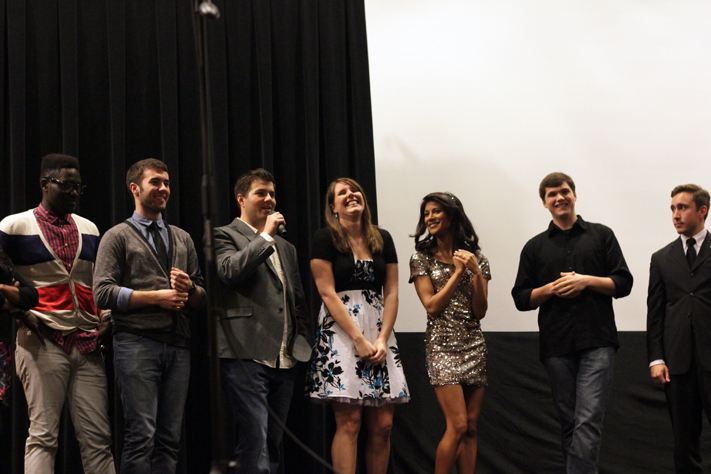 [/media-credit]Kicking things off was Jerica Richardson, a fifth-year BME major, singing "Hero." While she dazzled with her gold dress and rich voice, her a cappella performance could have been better. Bryan Lewis, a third-year CM major, sang "Everything" karaoke style, but in spite of missing a verse, he was quick to shake it off with a positive attitude and a powerful register. Niranjana Mani, ECE grad student, followed with a piano-accompanied "I Believe I Can Fly," but seemed to play it safe during the song's bolder moments, failing to make it her own.
Fanye Abbey, a fifth-year ME major, sang "Golden Train," but in spite of a strong falsetto and stage presence, the song itself didn't fit his vocal range. Anne Meadows, a first-year BA major, delivered an impressive, acoustic rendition of oldies hit "(Sittin' On) The Dock of the Bay." Erin Lightfoot, a first-year IE  major, chose an original piece titled "Another Me," playing both piano and vocals; the song itself was catchy and had a memorable, off-beat rhythm, but the audience participation may have been a stretch. Casey Jordan, third-year MGT major, sang "Crazy" and managed to wow with high notes, but the in between made it not the best song to highlight his voice.
Hengyi Liu, a fifth-year Econ major, set herself apart with Chinese pop song "Lonely Bowling Ball," a strong choice due to its wide vocal range and use of vibrato. MBA student Nathan Settembrini, played and sang an acoustic "Set Fire to the Rain," but failed to capture the bold moments. Tamrynd Parkinson, a fourth-year BA major, also sang a song by Adele, but opted for "Turning Tables," demonstrating a wide vocal range with nice swells. Maria Samuel, a first-year BME major, sang "Ain't No Other Man," and displayed a strong voice, but her inability to handle the microphone led to some fluctuation and feedback. Rounding out the competition was Preston Mayo, a second-year BA major, with "Feeling Good," accompanied by Tech's Jazz Ensemble.
As a panel of three judges scored the first round, there was a brief intermission featuring A cappella group Taal Tadka, whose signature South Asian/World fusion was a welcome addition to the evening. The second round featured Bryan Lewis, Hengyi Liu, Tamryn Parkinson and Preston Mayo singing "Hallelujah," "To Be Loved," "Stop and Stare" and "Me and Mrs. Jones" respectively.
At the end of the night, Preston Mayo was crowned Tech Idol via text entry by the audience. While a number of live TV shows have adopted this method, it retains the same fundamental flaw regardless of where employed: opening a poll to an audience sacrifices professional opinion and turns a competition into a popularity contest.  Voting mechanisms aside, the contestants gave splendid performances, setting the bar high for next year.