Freedom and peace. Those are the themes of the Korean artist Song Byeok, a man who lived under and escaped from one of the most oppressive regimes on Earth, and who, on Feb. 23, came to Tech to share his both his story and the new direction that his art has taken.
[media-credit id=15 align="aligncenter" width="741″]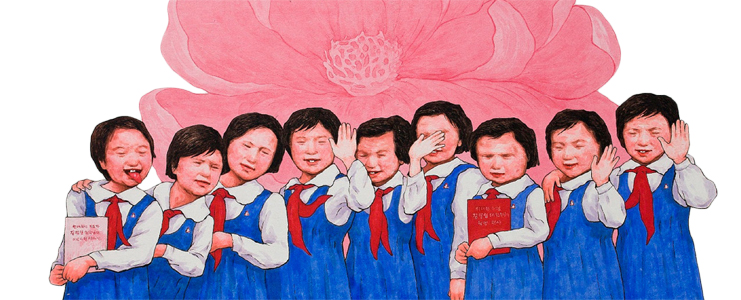 [/media-credit]
Byeok began his career as a propagandist for the government of North Korea under the reign of the late Kim Jong-il over two decades ago. His art at the time depicted North Korea as a glorious country of privilege and power; however, when famine struck in the 1990s and Byeok was thrown into prison for trying to escape to China to find food for his family, the artist's opinion of his country's government turned toward contempt.
After enduring near-starvation in prison and the death of his family, Byeok successfully escaped the country in 2002 and resolved to show to the entire world the truth about the machine that is North Korea.
Byeok's art now uses satire where it once showed propaganda on behalf of the state. A painting of Kim Jong-il's face with the body of Marilyn Monroe is one example of Byeok's unique style; he hopes to expose the unbelievably oppressive nature of the North Korean government simply by showing just how ridiculous it looks in his eyes. Other recent pieces by Byeok include a painting of expressionless, complacent North Korean soldiers, and one of a group of schoolgirls who are blissfully unaware of anything beyond the borders of their own country.
Sponsored primarily by the Tech Chapter of Liberty in North Korea (LINK), Song Byeok's visit consisted of a lecture by the artist himself and a slideshow of artwork from his latest exhibition titled Departure.
"My goal is to be the light of hope… to people under oppression," Byeok said about the underlying meanings of his artwork. "It is time to reform and open North Korea, so that North Koreans can see what the real world is. Freedom of speech has nothing to do with North Korea."
And that is just what Byeok depicts in his artwork: the freedom to speak out against your government if you choose.
Many of Byeok's pieces center on the caricature of Kim Jong-il; the glasses, the high hair, and the boyish smile of the former North Korean Supreme Leader are regular subjects of Byeok's satirical work.
Byeok does not expect the recent death of Kim Jong-il to affect his artwork.
"He isn't the god he [portrayed] himself to be," Byeok said.
Therefore, it seems that Byeok depicts Kim less as a single person and more as a representation of the North Korean government as a whole.
Despite all the hardship Byeok has suffered through in the past, the aim of his artwork is not to promote hatred or spite against the North Korean regime, but rather to prompt change from within it.
"Instead of portraying North Korea as a bad country, I try to find a different perspective that will allow viewers to see it in a different light," Byeok said.
Although it is so easy to label North Korea as an example of absolute oppression, through his artwork, Byeok hopes to change that label and convince people that his homeland is simply a country in desperate need of freedom.
Byeok plans to use his art to spread his message across the globe, beginning here in Atlanta and continuing on to cities like New York and Washington D.C.