A unique blend of people crowded the Variety Playhouse on Saturday, Feb. 25 to see and hear Dark Star Orchestra recreate a Grateful Dead concert. The audience ranged from veteran dead heads to teenagers too young to remember the Dead's figurehead, Jerry Garcia, pass away in 1995.
[media-credit id=15 align="aligncenter" width="711″]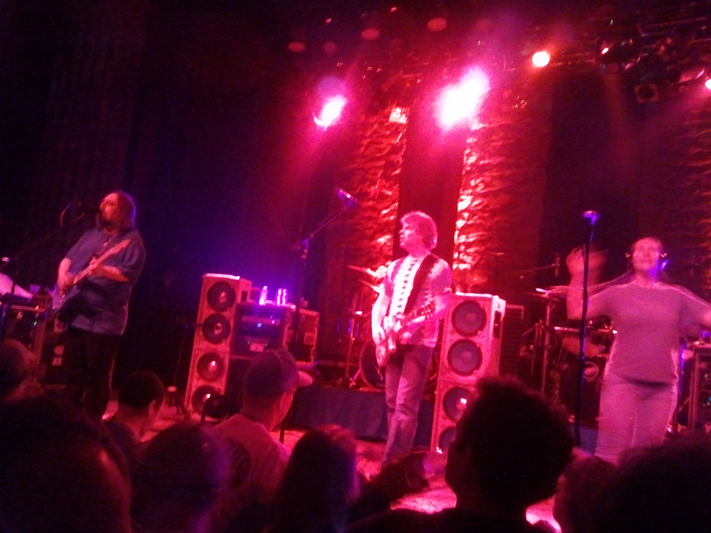 [/media-credit]Dark Star has been touring for 12 years and has over 30 years of Grateful Dead concert material to recreate. The Grateful Dead is known as the original and perhaps best jam band. Drummer Rob Koritz noted some of the complexities of recreating an act that spawned a generation of fans across the globe.
"We certainly aren't playing it note for note; it would be impossible and that would defeat the purpose of playing improvisational music. What we're going for when we recreate a show is [to accurately portray] the set list that they played that particular night, the tones that their instruments had during that particular era, the tempos of the songs and arrangements of the songs during that particular era," Koritz said. It is a big task but we were all dead heads before we joined Dark Star. We've all seen the shows. We're all students of the music, being musicians and fans of the Grateful Dead."
This particular night, Dark Star played a set from June 29, 1976. Highlights included a fast-paced rendition of "The Music Never Stopped," which featured the improvisation jamming that Dark Star and the Grateful Dead are known for, along with "Brown Eyed Women" that had the audience singing along to almost every note. However, the Variety Playhouse did not lend itself to the grand spectrum of the Dead's set. In the late 70s the Dead pioneered a speaker system known as the "Wall of Sound." This mammoth set up delivered incredibly loud volume to often large, open amphitheater venues. Variety Playhouse, on the other hand, is a small venue with limited acoustics in comparison. While Dark Star was able to play the classic Dead hits with precision and accuracy, the concert experience lacked the festive environment that can be heard even in old concert recordings.
On a different note, the seventies-era set list did have a country twang and sound that cannot simply be defined as rock and roll. Koritz explained the process the band goes through to choose their material. "It's actually a pretty complicated thing to do. We have one guy who does it, because if every one of us tried to throw in our two cents we would never agree on a show to play," Koritz said.
He went on to explain some of the different parameters that determine their song preferences. "Some of the Dead setups are very small with one drummer and some of them are enormous with a massive drum set behind them with an organ and a keyboard," Koriz said. "Also, we take into consideration what type of show we did last time we were in your market. If we did a seventies show last time, we probably won't do another one because we want to give each market the flavors of every era. Sometimes for fun, we'll be able to play a show from the Fox Theatre in Atlanta. But we have it all set before the tour begins."
Dark Star is an interesting act. However, those who aren't original dead heads and were born a generation too late might want to buy a concert recording of the Grateful Dead instead.