BIGBANG is back. This past Wednesday, an exciting event unfolded unbeknownst to many Americans: the unleashing of one of South Korea's foremost idol group's (boy band) latest album Alive. This release is notable for many reasons as Korean pop (K-pop) becomes a definite force in the world, and this release is an important recovery in the group's career, but most importantly because the music is simply pretty awesome.
[media-credit id=15 align="aligncenter" width="711″]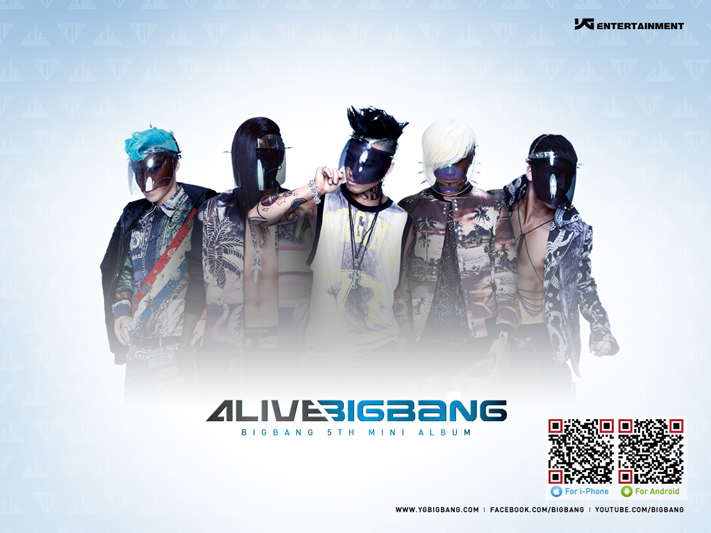 [/media-credit]Even though the quintet released an album, Tonight, almost exactly a year ago, the reality is the gap seems much longer. Previous to that album, the group had been on a two-year hiatus as they promoted themselves in Japan and launched solo careers. And even though Tonight was well crafted as ever and sold well, their hopes of re-entry into the public eye were shattered when two of their members faced headlining controversies and promotions were put on hold.
Korea can be a notoriously difficult place for stars, where fandom abounds. The fans are extremely devoted and fervent, as are the detractors. Vocalist Daesung faced these difficulties after a car accident that resulted in the death of a motorcyclist. Even though it was an accident with no drugs or alcohol, he was labeled a "murderer" by the media and netizens, forcing him into seclusion and an onslaught of guilt and depression.
Soon after, BIGBANG's leader GD fell under a great deal of scrutiny for testing positive for marijuana usage — even a miniscule amount of pot usage by a celebrity in Korea is a big deal. He was forced to withdraw from promotions and with two out of five members out BIGBANG's future was unclear. Each member had solid solo careers they could pursue instead and it could have easily been the end of Korea's best-known and most-bankable group worldwide.
This makes Alive's release all the more important – a true comeback. BIGBANG does not shy away from their past, but rather embraces it. From the claims of "I'm still alive" over the intro track to the ending solo outing of Daesung the pain is acknowledged, but more so the triumph over it. Easily the best track on Alive, "Blue" most openly faces painful memories while not falling into the usual K-pop melodrama.
K-pop groups largely compete, at least seemingly, with each other to see who can win the vocal Olympics, dance the most inhumanly or wear the most outlandish clothes. BIGBANG often participates in these antics, but on "Blue" they opt for the subtle. Rappers, GD and TOP, lose their cocky inflection and the three vocalists don't sing at the top of their lungs to express their hurt, making "Blue" soothing and sad — nothing short of a masterpiece.
The rest of the album is far more upbeat as BIGBANG navigates through a different genre for each track. From the electronica of "Love Dust" to the R&B "Bad Boy" to the dance "Fantastic Baby," they acknowledge and often outdo even the most popular artists stateside.
The only problems with this album come from strange management decisions by their label. All six songs from the album (a typical length for a Korean release) are being simultaneously promoted as singles. Though all are strong enough to stand alone, this severely limits the potential success of the tracks as they compete not just with other artists but themselves. Also disappointing is the image they have decided to take for this album, which is decidedly bad with even stranger haircuts and clothes than usual. As all tracks have music videos being released at the same time, this poor image will be reflected six times with no opportunity for change.
That being said, BIGBANG has the potential to at least begin breaking into the American music market with Alive, leading the way for even more Korean artists.  In the past few weeks they have managed to produce numbers that are hard to ignore. The "Blue" music video was viewed over 10 million times in a week on YouTube, featuring in the most viewed, and their album hassold well, staying in the Top 10 on iTunes for days despite little to no promotion in English.  With an upcoming world tour and strong sales, BIGBANG may soon break beyond just Asia and Europe and tap into the largest music market in the world — America.