Sleigh Bells' sophomore effort arrives in a packaging similar to that of their debut record. While the distorted faces of high school cheerleaders reflect the caricature of Americana characteristic to Treats, Reign of Terror's cover art follows a similar aesthetic: The photograph of blood-spattered Keds serves to represent Sleigh Bells' signature mash-up of the grotesque and the innocuous. Terror carries the thematic and stylistic residue left over from Treats, but Miller and Krauss also sacrifice much of their volume and bombast for a newfound sense of nuance and lyrical intimacy.
[media-credit id=15 align="aligncenter" width="711″]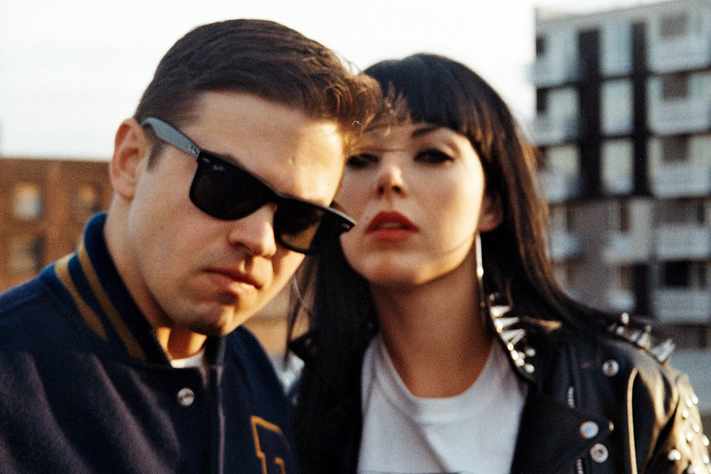 [/media-credit]
The first few tracks of Terror demonstrate that the duo has come to embrace and intertwine their respective musical backgrounds. Miller, formerly a guitarist for the hardcore band Poison the Well, fully integrates his crisp guitar heroics and machine-gunning beats with the pop sensibility and vitriolic lyrics of Krauss, who fronted the pop ensemble Rubyblue as a teenager. The record kicks off on a pleasantly gaudy note with "True Shred Guitar," which offers emphatic guitar riffs coupled with a sampled recording of a cheering audience. The glimmering "Leader of the Pack" and the whispery vocals that mark "End of the Line" additionally speak for the duo's largely unheard soft side.
The remainder of the record demonstrates a shift in tone and style that hearkens back to the simultaneously titanic and elegant guitar work of 1970s and '80s metal. The ruthless riffs of "Demons" and "You Lost Me" are unmistakably reminiscent of Black Sabbath's Paranoid. The latter half of this record also offsets the authoritative and survivalist themes of "Born to Lose" and "Comeback Kid" with lyrics that plead, "I don't want you to see me this way / What a way to die."
Terror seldom lives up to the vitality and cacophony of its predecessor, but it is definitely a prettier pill to swallow. While Treats channels the energy of a high-school pep rally and the sound of a satanic cheerleading squad, Sleigh Bells' second record presents a more fully-developed sonic landscape marked by gorges of rippling guitar and chasms of emotionally dynamic vocals. Miller's production even appears to draw inspiration from Steven Spielberg's Poltergeist: The warped vocal tracks that supplement "D.O.A" and "Crush" mimic the cry of a platinum-blonde Carol Ann calling from another dimension.
The sonically and emotionally subdued Terror will likely disappoint fans who anticipate "Treats 2.0," and Krauss may encounter difficulty emulating multilayered and thoroughly filtered vocal tracks during live performances. However, those who wish to see Miller and Krauss explore new and unfamiliar territory are surely in for a ride.