Nestled among the many restaurants on Peachtree Street, Saigon Cafe offers customers authentic Vietnamese and Thai dishes, specializing in pho. Operated by the Saigon Restaurant Group, which has several Vietnamese establishments in the Atlanta area, Saigon Cafe is at the less expensive end of their dining options, with the average entree costing less than $10.
[media-credit id=15 align="aligncenter" width="300″]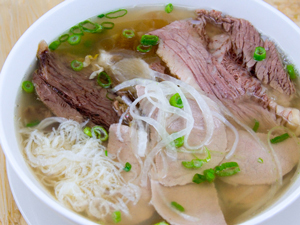 [/media-credit]
For the non-Vietnamese customer, there is a distinct aroma of foreign food that can be offsetting upon entering their entrance, but one quickly adjusts. The restaurant itself is modestly decorated with the focal point of design a massive artificial tree dominating the dining area.
The dish that draws the most crowds out to the Saigon Cafe is a soup like entre called pho. Pho, pronounced "fuh," is a traditional Vietnamese meal consisting of chicken or beef, rice noodles, Asian basil, mint leaves, lime and bean sprouts simmered in a heavily-seasoned broth made two days previously from boiling beef and bones. It is also often enjoyed with Sriracha hot sauce.
Good pho is hard to come by in downtown Atlanta, particularly for the customer who knows what a well-made broth should taste like.  In several reviews on Yelp, customers agree that while the pho is palatable and satisfies the craving, there are better pho restaurants in Atlanta.
Notable highlights in their menu outside of the pho selection includes their Pad Thai, a traditional Thai dish made with rice noodles, fish sauce, bean sprouts; and chili powder, garnished with lime and crushed peanuts, and served with either chicken, beef or shrimp.
Bubble tea, a type of tea made from milk and typically some fruit, is another highlight of Saigon Cafe. Sometimes called "boba milk tea," this beverage originated in the 1980s in Taiwan. The "bubbles" are the small chewy balls made of tapioca starch that give the drink a truly unique texture to accompany the light milk taste.
Not over-accommodating yet not completely rude, the café attracts no spotlight with their service. Service varies day to day, however for the most part food is served as soon as it is prepared and waiters drop the check off promptly after the meal is completed.
Overall, Saigon Cafe is a great place to go to satisfy a pho craving without spending more than ten dollars. Portion sizes on other dishes are also very generous and it's easy to make two meals out of one. The speed of their service makes going to the restaurant fairly effortless, particularly for the customer trying to avoid unhealthy fast food options, but wanting a quick meal.