On one cold Saturday night of Feb. 11, the Yonder Mountain String Band and opening act The Infamous String Dusters treated an enthusiastic audience to four hours of free-form improvisational bluegrass at the Tabernacle. While this genre may seem peculiar to some, banjo player for Yonder, Dave Johnston, explained the roots of his band.
[media-credit id=15 align="aligncenter" width="711″]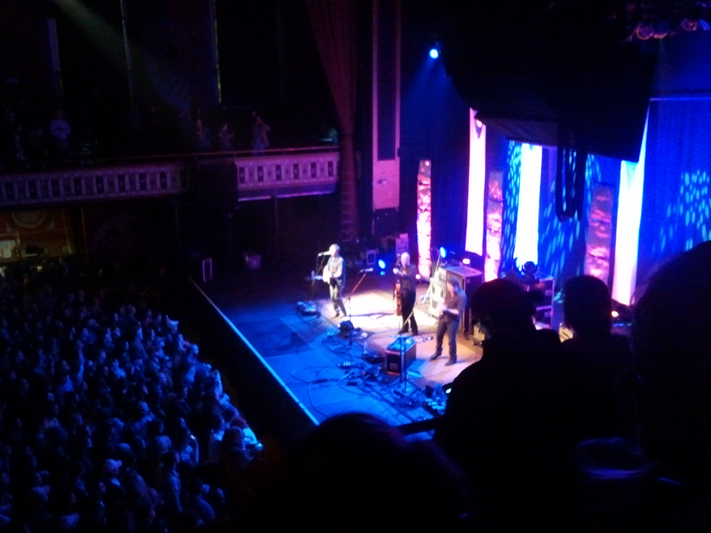 [/media-credit]
"We like the fundamentals of bluegrass: harmony syncing and ensemble playing. That's what informed us to get together as a band, was that type of music. But as we continued playing together we also found that we shared an appreciation for jam bands such as Phish and the Grateful Dead as well as an appreciation for highly improvised music. We also found out that we had a strong affinity for the simplicity of the directness of punk rock. We became comfortable with who we were playing instruments together."
This highly improvised music kept the audience grooving and dancing well into the night. Yonder capitalized on the intimacy of the Tabernacle with extended and energized jams that complimented their colorful light show nicely.
Founded in Colorado in 1998, Yonder sports a bluegrass lineup of Jeff Austin on mandolin, Dave Johnston on banjo, Adam Aijala on guitar, and Ben Kauffman on bass. In fact, it is this bluegrass lineup that helps separate their sound from more classic jam bands.
"The stereotype that jam bands are these very long noodly musical phenomena is there for a reason because that happens. We try to avoid that. We try to stretch out but also be direct and succinct in where we're going," Johnston said.
Where Yonder and classic jam bands do share similarities is the emphasis on the live performance.
"Our main focus is our performance, so in that regard we are kind of a jam band. But a distinction that should be made about Jam Bands is that it is almost a title for the fans that love highly improvisational music… [The fans] are going to rage and have a good time. That to me feels more like what a jam band is," Johnston said.
And jam is precisely what Yonder did. The band interwove extended instrumental solo periods with yee-haw flavored lyrics in its own unique way. It is safe to say that the most interesting component of their performance was the jamming. Yonder prefers to allow every member a chance to be the focal point rather than adopt a regular leader.
"A lot of what happens on stage with Yonder during the jams is truly very free form and conversational. That's how I like to describe it. It's like were having a conversation with our instruments, that's the limitation. Other than that its very free. But we try not to go over board. Have the sense to make your point and then let someone else play," Johnston said.
This formula kept the audience on its feet and moving for the majority of the night. The sound Yonder produced was unique and relatively good for the genre of live improvisational shows. That is not to say that the band was error free throughout, as a couple of notes were missed here and there. However, anyone who enjoys the genre of live music will be well served to catch Yonder next time they come into town.