Brooklyn-based, alternative-rock iconoclasts John Flansburgh and John Linnell of They Might Be Giants are known for unconventional instrumentation, surrealist lyrics and their contributions to the soundtracks of myriad television programs. It is likely that you have heard their work on Malcolm in the Middle or The Daily Show with Jon Stewart.
[media-credit id=15 align="aligncenter" width="711″]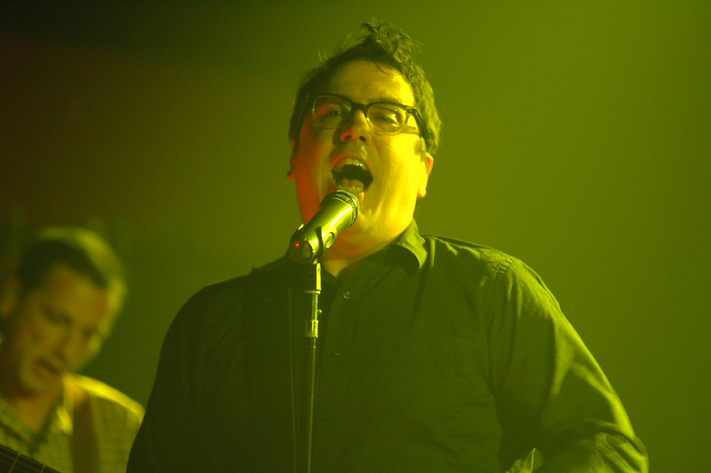 [/media-credit]
The two Johns and backing instrumentalists did not fall short of these distinctions on an unforgivably frigid Feb. 11 at the Variety Playhouse. The ensemble is currently touring the US to deliver commemorative performances of 1988's album, Lincoln, but their act has continued to evolve in accordance with their enduring experimentation and 30 years of experience in the music industry.
Jonathan Coulton, a Yale University graduate who has amassed a devout following as a folk-rock musician, served as a clumsily endearing precursor to the principal attraction. A number of audience members shuffled with visible disinterest as bespectacled Coulton and his crew set up shop, but the group successfully captured the admiration of the crowd with crafty renditions of tracks such as "Nemeses" and "Re: Your Brains".
Flansburgh, Linnell and friends subsequently took to the stage in a gust of fanfare not unlike that of a sporting event. The duo expressed their appreciation of the Variety Playhouse and their Peach-State fan base through a track entitled "Atlanta (The Variety Playhouse)," which affectionately describes the former World War II-era movie theater as "a hospital for people who are well." The ensemble reintroduced 23-year-old Lincoln to virgin and veteran fans alike with keystone tracks such as "Ana Ng" and "Purple Toupee." They also provided artful performances of the lesser-known "Mr. Me," "Snowball in Hell" and "Where Your Eyes Don't Go." Flansburgh and Linnell paid additional tribute to a panoply of tracks off of their expansive discography, including their most recent effort, "Join Us."
While the front men of They Might Be Giants graced the audience with their trademark blend of accordion and electric guitar, drummer Marty Beller provided an excellent rhythmic backbone to tracks that were originally accompanied by a drum machine. The show would have benefited from the customary brass ensemble to supplement livelier songs, but Linnell managed to fill such gaps with intriguing use of a synthetic church organ and a baritone clarinet.
The Johns also kept the audience engaged with torrents of witty banter that served as proper accoutrement to lulls in musical performance (when the band experienced technical hiccups, Linnell quipped that the concert was actually entitled "The Lincoln Album: Ruined!"), and the spectacle even took on a multimedia format as the duo forged intermittent puppet shows starring the Avatars of They, which the venue's technicians filmed and projected onto a large screen. The performance also featured a guest appearance from a cardboard cutout of the Bush-era Supreme Court.
It is a common trend among seasoned musicians to dole out unimaginative iterations of older and more popular works during live shows, but They Might Be Giants clearly transcends the nostalgia of artists such as R.E.M. and New Order: This was no candle-lit vigil to the accomplishments of their younger years. John Flansburgh and John Linnell still have their ingenuity, their spunk, and their hair.