Last Friday, The Cobb Energy Performing Arts Center boasted the world premiere of Twyla Tharp's latest ballet, The Princess and The Goblin, performed by Atlanta Ballet. At 70, Tharp has had a storied career, working with dance celebrities like Mikhail Baryshnikov and musical influences as diverse as Joel, Dylan and Sinatra, but up until now her oeuvre has lacked a classical fairy-tale ballet of her own. While most of Tharp's earlier works have been tailored for more mature audiences, with varying political intensity, The Princess and The Goblin is pleasingly light-hearted and kid friendly, without succumbing to banality.
[media-credit id=15 align="aligncenter" width="741″]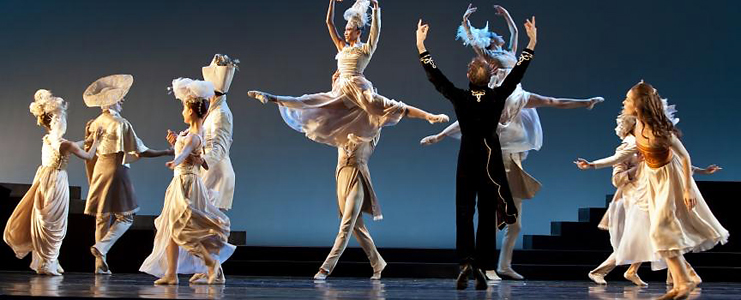 [/media-credit]The story, based on George MacDonald's 1872 fairytale novel by the same name, follows young Princess Irene (Alessa Rogers), who discovers that the town's children are being abducted by a society of nefarious but bumbling goblins. Her fashionable, conceited, and completely disinterested father, King Papa (John Welker), is more interested in throwing elaborate garden parties than recovering Irene's abducted younger sisters, Stella and Blu (Stella McFall and Flannery Bogost). It is up to Irene and her commoner friend, Curdie (Jacob Bush), to rescue the snatched children from the goblins. Along the way, our heroine receives guidance from the spirit of her great-great-grandmother Irene (Christine Winkler) and ultimately ends up confronting the goblin queen (Tara Lee) and king (also, John Welker). It is the queen's two guards, Helfer and Podge (Christian Clark and Jesse Tyler), who steal the show with their comic buffoonery and high-energy, athletic variations and pas de trois with Curdie.
Tharp's choreography may be best described as contemporary ballet, with prominent jazz and modern influences and even small pinches of pop. Not all of the choreography is ground breaking: The more traditional corps de ballet accompanying the dances between Irene and her grandmother are suitably ghostly and elegant, with lots of twirling, but they are not especially memorable. The goblin's choreography is fascinating though, as it is distinctly balletic, but also undeniably earthy, with frequent leaden impacts and lots of making for a captivating blend of grace and brutishness.
One common thread with Tharp's earlier ballets is a frequent use of dance representing specific narrative actions through liberal use of pantomime. All of the principle dancers in Princess were expressive,  using subtle gestures to speak volumes about their character. John Welker in particular was quite effective, bringing a performance that is by turns imperious, petty, and cruel but ultimately tender.
There are also quite a few striking choreographic metaphors, including a tableau at the garden party to illustrate the adult's indifference  and powerlessness to thwart the goblin's abductions. The fight choreography is comical rather than visceral, with lots of stomping and high kicking accompanied by pratfalls. The goblin pas de deux's are real treats, featuring moves that are wobbly, squirmy and rigid; a few maneuvers even seem to be partially inspired by planking. The children's dances tow the line with saccharinity but never cross over into cloying. The choreography of the eleven stolen children seems to share more in common with playground antics—like jumping jacks—than traditional ballet, but the two younger princesses display excellent pantomime and dancing skills. These scenes will likely to appeal to all audiences  put-off by the more pretentious choreography of classical ballets.
The set design is very minimalistic, consisting primarily of  streamers hanging from on high, differentiated to resemble both falling rain and hanging roots in the goblin's underground kingdom.  There are few neat tricks though, like a shroud to represent ghosts and silhouettes to portray the comparatively grizzly downfall of the goblin monarchs.
The music, taken from Schubert and original compositions by Richard Burke is pleasant, if not as memorable or iconic as other traditional ballets. With repeated stagings, however, it may gain similarly pleasing familiarity.
The Princess and The Goblin pokes fun at traditional ballets with obvious and tremendous affection. Tharp's fairytale makes for an ideal way to introduce kids, or dance skeptics to the pleasures of storytelling through dance.