Last week marked the premier of The Woman in Black, a thriller based on Susan Hill's novel of the same name. It is the turn of the century and Arthur Kipps (Daniel Radcliffe) is a young attorney who has been sent to handle the Eel Marsh House. It just so happens that the mansion in question is surrounded by an ominous swamp, and is only connected to a single track of road that becomes flooded during high tide.
[media-credit id=15 align="aligncenter" width="711″]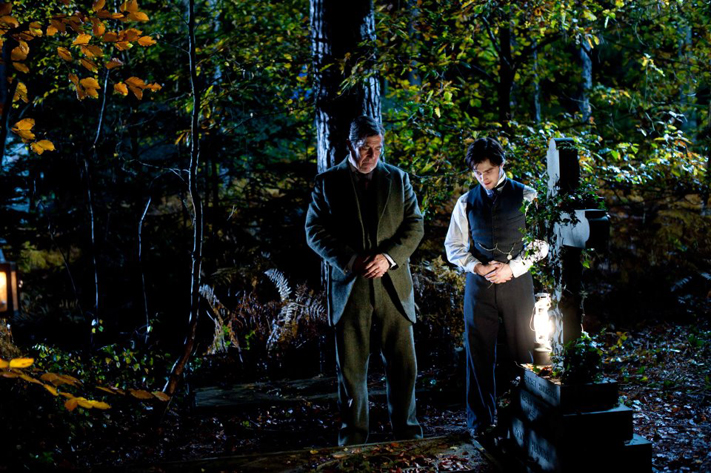 [/media-credit]
The local townspeople are, of course, terrified of the estate and the woman who is said to haunt it. While mourning her own child's death, the woman vengefully brings about the death of others' children.  As everyone knows, frightened locals hate strangers, and strangers have to solve other people's paranormal problems. Sure, Arthur's wife died in childbirth four years ago, so he needs the job to support his son Joseph (Misha Handley), but whether or not his firm cares about putting spirits to rest is debatable.
Perhaps Kipps explores the matter out of sympathy as a father, putting himself in the shoes of the victimized townspeople and the woman in black herself, but Radcliffe's performance simply is not strong enough to do so. Being his first on-screen appearance since the Harry Potter movies, this is certainly a drastic change, but Radcliffe is still too young for a role like this one. It is hard to see him as a father and there was not much weight to his performance.
In contrast, Ciaran Hinds delivers as Sam Daily, the only friendly person in town who serves as Kipps' eventual confidant and one of the town's victims (having lost a child himself). Throw in Janet McTeer as an insane Mrs. Daily, and Radcliffe ends up overshadowed. Chillingly enough, Mrs. Daily has been thrown so far off her rocker by the death of her son that she dresses her dogs as people in what is a depressing attempt to take the place of her child.
Even so, maybe this is not the best story, and maybe the screen play just is not that great, but most thrillers need copious amounts of plot devices just to function anyway. The objective here isn't to earn Best Picture—it is to scare people by immersing the audience with a forlorn and foreboding atmosphere, and that it does spectacularly. The soundtrack and visuals constantly keep us in the dark and at the edge of our seats.
These are not cheap or gory scares—they are moments of suspense made from the clever manipulation of shadows and sound. After some time spent exploring the mansion's nooks and crannies, it becomes clear that the characters are merely a means to showcase the true star of the film: the house itself. With each passing moment, the audience is filled with an unbearable sense of dread as the soundtrack brings the house to life. Suffice to say, most audience members may never feel comfortable near wind-up toys again.
While ultimately satisfying, viewers may find this a hit or miss, especially given what could be considered a cheap ending. If you fancy yourself a horror/thriller fan, then by all means go and see it; but otherwise, you might want to avoid The Woman in Black.