Lana Del Rey was one of the most hyped artists of the past few months after the release of her single "Videogames" last October propelled her into the blogosphere limelight. The attention only increased after her performance on Saturday Night Live was slapped with the unbecoming label of "worst performance ever."
[media-credit id=15 align="aligncenter" width="522″]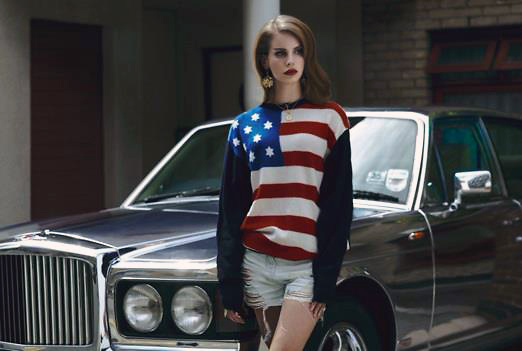 [/media-credit]True to the adage that "any press is good press," the excitement around her major label debut only increased as netizens jumped to both ferociously attack and vehemently defend her. All this culminated last Tuesday (Jan. 31) when Born To Die was released to strong sales and polarizing reviews.
Del Rey's given name is Lizzy Grant, under which she drew a bit of attention in 2008 with her first EP. However, after an album, a name change, and subsequent erasure of any previous material Lana Del Rey was ready to expose her self-proclaimed "gangsta Nancy Sinatra" persona to audiences.
On her album, Del Rey astutely deconstructs American culture over the course of 12 tracks. On the surface her album could be a non-stop party anthem, name dropping more brands of alcohol than any rapper. However, behind the Cristal, Bacardi and Pabst Blue Ribbons are self-important, sometimes clever, but often vacuous lyrics with content most comparable to Lady Gaga's work.
Each paints a picture of a lost America, youth with nowhere to go on a search for purpose and religion — but ultimately losing themselves in booze and sex. But both conclude that's just fine; one deciding we were Born This Way, the other we were Born To Die. But while Gaga's records could be the party, Del Rey's feels more like the hangover: full of regret and heavy weariness.
And morose her album is, every song a slow-burning, tear-filled manifesto of lament. However, Del Rey creates a unique album that feels truly "American," using seemingly every trope from popular music in the past 20 odd years. Ballads like "Born To Die" and "Blue Jeans" feature in the background cat calls often reserved for the raunchiest rap songs. She does her best Gwen Stefani, faux-rapping her way through the tracks "Off to the Races" and "Diet Mountain Dew."
For "National Anthem," Del Rey pulls the strings almost directly from The Verve and channels Rihanna's stuttering vocals on "Summertime Sadnessa." Del Rey's voice changes almost every song, ranging from the dark, husky vocals of Cher to the high-pitched squeals of a Bollywood singer. Through all of these contrasts, Del Rey still manages to create a cohesive album, which, though slow, never bores.
Del Rey is essentially a contrasting artist and persona — one destined to be both hated and loved. Though ambitious, Born To Die never raises itself above the mere pretense of promoting Del Rey's view of what America is and should be. Instead Del Rey's strong songwriting capability carries the album; when the glum lyrics and obtuse production are removed and only bare melodies are left, they are undeniably some of the catchiest in the business.
Interesting, however, is how far her promoters will go in the fight against detractors. Del Rey's SNL performance was flat and off-key, both musically and artistically, and deserved criticism — though "worst ever" may go too far. Many major music outlets already awarded her the "Next Big Thing" and are now faced with the reality that maybe she's not all that. It will be interesting to see how the public reacts as the gap between tastemakers' and consumers' whimsies comes to a head. Del Rey is by no means a bad artist, but rather one whose music and persona prove to be more conflicting and divisive than likable, warranting a listen simply for juxtaposing all of what is America into one album.