[media-credit id=15 align="aligncenter" width="711″]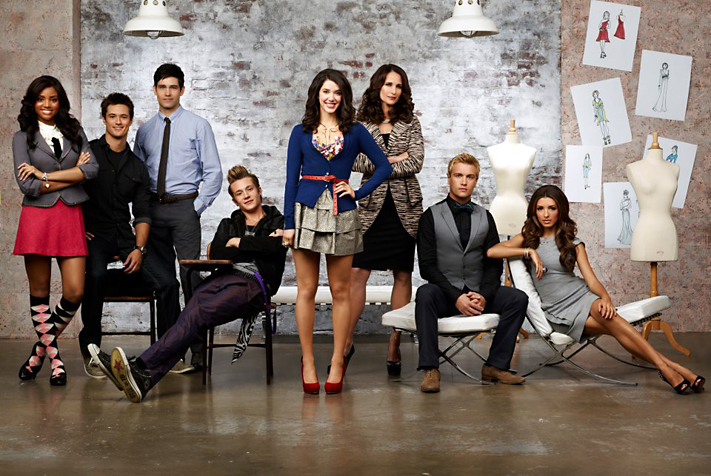 [/media-credit]Jane by Design, ABC Family's newest teen-oriented television show, features an aspiring fashion designer who is stuck at the bottom of the totem pole in high school. Despite her larger-than-life aspirations to succeed in the fast-paced fashion industry, Jane Quimby (Erica Dasher), is in a position far from achieving her goals until she lands a dream job with one of the biggest names in the fashion industry. Suddenly, Jane is forced to contend with the responsibilities of a full-time job and surviving as a high school student.
Jane is a smart and hardworking character who knows there is something better waiting for her outside of high school. Although she takes on the role of a social outcast, she refuses to let the status quo deter her from her designing dreams. Her upbeat persona and lively energy towards every strange situation she faces make her an entertaining and enjoyable character to watch.
Jane also faces a challenging situation at home with her father having passed away and her mother having abandoned her and her unemployed brother. The two make a great, determined pair, both striving to succeed in their respective fields to provide assistance to the other, a fair reflection of today's dismal economy.
Jane is also accompanied by her best friend and social misfit, Billy, who serves as an accomplice in Jane's fashion endeavors. His leather attire, faux-hawk and apparent disregard for fitting in make him an enigmatic presence. Despite  his humorous, reliable, and helpful nature, he also has a few secrets. Chief among them: a secret romance with high school 'queen bee' Lulu.
Lulu serves as the typical popular high school student who throws the hottest parties and torments the less fortunate students who attempt to ascend to her level. Although Billy wants to reveal the relationship, Lulu convinces him to keep it a secret because she does not want it to affect her popularity — typical of the high-maintenance persona she portrays. Despite her mean girl persona, Lulu has the potential to grow into something more.
In the working world, Jane is faced with another difficult character, a sinister coworker who is desperate to steal Jane's boss' job. India is deceiving and manipulative and makes many attempts, even within the first episode of the show, to attain everything she desires without any concern for others. Jane's smarts prevail in this situation, where she successfully realizes India's deceitful and cruel intentions and makes a stand to defend her boss and everything she is working towards.
Jeremy, the creative mind behind Jane's new workplace, portrays the pretty boy who all of the girls swoon over, but Jane manages to maintain her cool. His allure quickly abates once Jane spots him and India late in the office, solidifying her belief that India is not as sweet and innocent as she claims.
Jane's boss, Gray, is also incredibly tough and requires perfection. The fact that she is extremely demanding and unrelenting in her judgment only adds to the complexity of Jane's situation. Her passion for the fashion industry and desire to succeed at her new job make her determined to impress Gray.
Throughout the pilot episode of Jane by Design, the characters are introduced and well-developed, providing plenty of promise, especially for Jane's character. It is quickly made clear that Jane's situation is something out of the norm. But Jane displays an unparalleled perseverance that is not present in many teen female leading characters on television. Despite difficult forces coming from both the career and school worlds, Jane maintains her optimistic and hardworking energy to survive the first week of what will certainly be an interesting and exciting career for Jane and an equally entertaining and intriguing show for viewers.