[media-credit id=15 align="aligncenter" width="500″]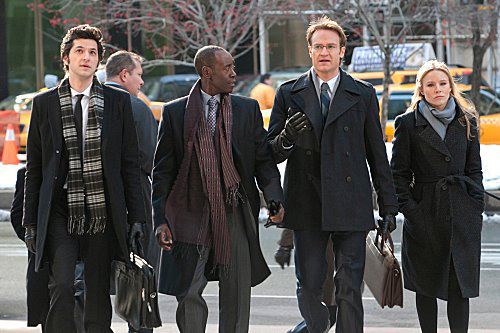 [/media-credit]House of Lies is the new half-hour comedy from Showtime starring Don Cheadle as Marty Kaan, a project manager at a highly successful management consulting firm called Galweather & Stern. Kaan works with his team comprised of the socially-inept Doug (Josh Lawson), the sycophantic Clyde (Ben Schwartz, who also plays John Ralphio in NBC's Parks and Recreation) and the smart, sassy Jeannie (Kristen Bell).
The show's premiere features Kaan and his team jet-setting to New York from their Los Angeles base to meet with a financial company, one that in the reality of House of Lies helped cause America's sub-prime mortgage crisis. Kaan's company essentially makes money by creating the illusion that they are indispensable to their clients. The last name "Kaan" (pronounced "con") is an obvious play on words alluding to the nature of the managing consultant's occupation, which he illustrates via use of freeze-frame shots in which he explains the job's core components.
Kaan's ex-wife Monica (Dawn Olivieri) works for a higher-ranked competing consulting firm in Kaan's exact same position, while Kaan's roommates include his sarcastic father Jeremiah (the wonderful Glynn Turman) and gender-confused son Roscoe (Donis Leonard Jr.). In classic Showtime fashion, the show features cursing and sex on a rampant scale, from stripper wives to lesbian bathroom scenes, and the potential for sexual exploits involving Kaan and seemingly any woman he desires is endless. Jeannie is included, though the banter between Cheadle and Bell leaves the viewer ambivalent towards the budding possibility of romance.
Kaan is yet another flawed male Showtime lead—he's a greedy businessman whose job is made  of a lot of smoke and mirrors. He says things like the client should think "that their business is going to fail without you" and "closing is the thing I do that sets me apart from you. It makes me bulletproof. I can close anybody," which results in dialogue that fails to endear the character to the audience.
There is little to like in any of the characters and the scenes where Kaan is shown understanding with his gender-identity questioning son Roscoe fails to seem organic.
Prominent critics returned with mixed reviews for the first episode, but generally had favorable reviews for the second episode entitled "Amsterdam." The redeeming qualities cited nearly universally are that Cheadle is a great actor and despite his self-important archetype of a character, he is charismatic to watch. The rest of the cast perform admirably, and the banter between Kaan and his team is charming enough to make the audience wish to be a part of their world.
House of Lies certainly fits in with the Sunday night lineup of flawed male characters on Showtime, as it is sandwiched between Shameless's William H. Macy and Californication's David Duchovny. However, House of Lies lacks the heart of Shameless and Kaan lacks the likability of Duchovny's Hank Moody, which means we care very little about the characters after two episodes.