[media-credit name="Disney" align="aligncenter" width="711″]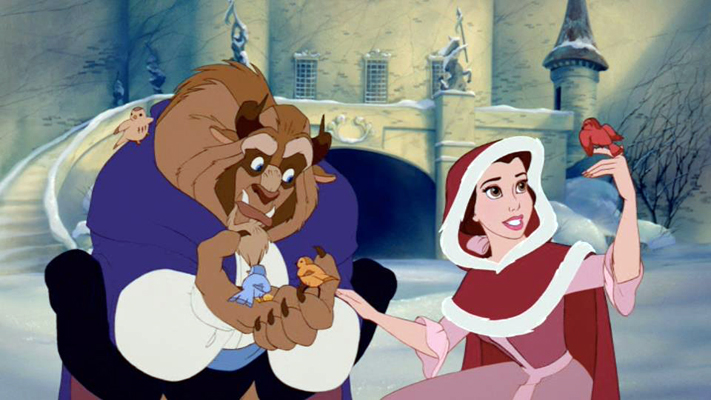 [/media-credit]It is fortunate that Walt Disney Animation Studios has forged a stockpile of quality films to rerelease in 3D during periods of creative drought.
It is doubtful that the executives behind the reanimation of Beauty and the Beast simply wish to expose the film to fresh audiences as a gesture of good will. At the very least, this particular rerelease draws attention to the shortage of technological and artistic innovation that plagues Disney's most recent cinematic output.
Linda Woolverton's rendition of an 18th-century French fairytale shows no serious signs of detriment: Belle's (Paige O'Hara) bookish appeal continues to enchant audiences and dispel the traditionally feminine qualities of Disney's past heroines, and Beast's (Robby Benson) inner contention between the human and inhuman poles of his existence remains emotionally poignant.
This 1991 production may lack the cynical humor and pop-cultural references that came to characterize its successors, but the film manages to compensate with a sort of puerile charm largely absent from Aladdin and The Hunchback of Notre Dame.
Beauty's rerelease additionally speaks for the sudden surge of experimental computer animation that took hold of the industry during the late 1980s and prompted a number of major-league entrepreneurs, including Steve Jobs, to invest in its development.
The marriage of hand-drawn animation and computer-generated imagery seen in the iconic ballroom sequence undoubtedly stirs a pleasant sense of nostalgia, but it also serves as a reminder of the artistic experimentation that has more or less taken leave of Disney's recent animated features—the fact that the Walt Disney Company has resurrected this piece of work for an additional run conjures an image of a has-been high school football star sipping whisky before a case of old trophies.
The digital 3D does the film no serious injustice, but it fails to add dimension to the storyline or the artistic vision of co-directors Kirk Wise and Gary Trousdale: The added expense primarily culminates in multiple layers of 2D animation within a single frame.
It's no secret that Disney's upcoming line of 3D rereleases is first and foremost a ploy for commercial attention; however, this particular film choice simply lacks the dynamic visual landscape that 3D projection tends to usually flatter.
Beauty hasn't aged for the worse in the 20 years that have passed since its theatrical debut, but its rerelease mostly comes off as a conciliatory and insincere Valentine's Day gift.
Disney may continue to artistically and financially rest on the laurels of its second Golden Age in lieu of producing innovative material, but it could be worse: they could also rerelease The Little Mermaid in 4D.
[Editor's Note: Disney's imagineers are already hard at work on adapting The Little Mermaid for a 3D theatrical rerelease next year using  new "4D modeling" technology.]