[media-credit id=15 align="aligncenter" width="711″]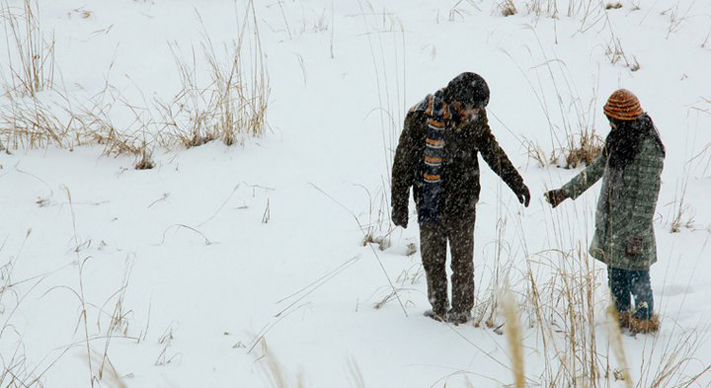 [/media-credit]
Norwegian Wood should have been the film that broke the long standing barrier between American audiences and Asian cinemas, showcasing a serious plotline, serious acting, and absolutely no martial arts.  Instead it gets lost in its source material and despite solid performances, never quite matches the book upon which it is based.
Norwegian Wood is faithful to the novel of the same name by Japanese author Haruki Murakami.  The movie stars two of the most renowned current Japanese actors, Ken'ichi Matsuyama and Oscar nominee Rinko Kikuchi, as Toru Watanabe and his love interest Naoko. Newcomer Kiko Mizuhara fills out the main cast as Midori, a vivacious counterpart and rival to the timid and frail Naoko.
Toru is a university student in Tokyo during the late 1960s, a time of turmoil as the Japanese student movement causes riots and mayhem. But all this happens in Toru's periphery as he recovers from his best friend's recent suicide.  In a chance meeting he encounters Naoko, his deceased friend's high school sweetheart. As they heal together they draw closer, becoming lovers.
Life proves too much for Naoko who retreats to an asylum in the mountains during which Toru meets the vivacious Midori who enthralls him with her truths and lies. Norwegian Wood is far more than just a love triangle though, a fact the movie version sometimes glosses over.
Toru is a typical character for Murakami, lost in his own isolation only learning to live life as it happens around him. Matsuyama delivers a stunning performance as the underwhelming Toru, as does Kikuchi for her turn as the wounded and fragile Naoko. In an interesting move Mizuhara's performance changes the character of Midori from slightly crazed in the book to coy and human—a welcome change.
The movie also features some of the best landscapes captured on film. As the characters travel around Japan each location becomes a part of the story, reflecting the characters most inner thoughts and feelings.  Directed by Anh Hung Tran, who was also nominated for an Oscar, the cinematography is lavish making the movie worth seeing simply for its beauty.
Johnny Greenwood, the guitarist for Radiohead, composed the soundtrack which exquisitely fills a movie that is so often silent. The movie really has quite a lot going for it, but ultimately pales in comparison to the novel.
Perhaps the book was never meant to be adapted. The main character's thoughts become convoluted and incoherent when voiced. The side characters, who provided a balance to the three main character's woes with their own idiosyncrasies, only make brief appearances. One scene though featuring a playboy and his spurned girlfriend is particularly memorable and heart breaking. Tran botches the novel's masterful and ambiguous ending; an inevitability given that such an ending can only exist in print.
It is a telling sign that the movie has just now been released in select cities in the U.S. over a year after its original release in Japan. The film still deserves high praise and is definitely worth seeing, but does not live up to the book.