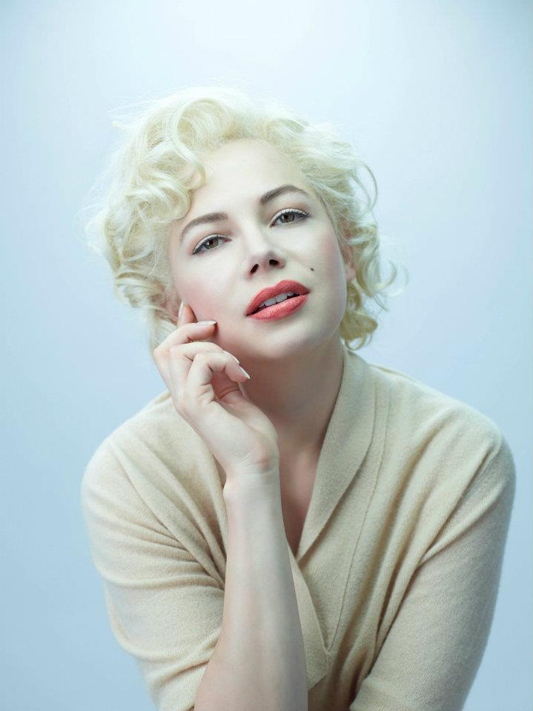 50 years after her untimely death, the world is still as infatuated with Marilyn Monroe as ever. Her classic Hollywood appeal has been treasured and emulated by actresses for decades, not altogether successfully.
Michele Williams is the latest actress to step up to the plate in My Week with Marilyn, a charming period piece that tells the true story of British author and director Colin Clark's life-changing week with Marilyn. Directed by Simon Curtis, My Week with Marilyn is a beautiful film that offers a closer look at the complicated and tortured soul that was Marilyn Monroe.
Twenty-three-year-old Colin Clark, played by Eddie Raymone, is determined to get a job in the film industry in order to prove himself to his family. He manages to land himself a job working as a third assistant director on the film The Prince and the Showgirl. Directed by and starring world-famous actor Lawrence Olivier, played by Kenneth Branagh, Monroe is eager to work with him and prove herself as a more serious actress.
Unfortunately, tensions run high as Olivier and Monroe butt heads over her constant tardiness and insistence on having her entourage with her at all times, including an extremely annoying acting coach. There is also the added drama of Monroe's quickly deteriorating marriage to American playwright Arthur Miller, as well as her growing addiction to prescription pills and alcohol.
Miller leaves for America after a fight with Monroe, and this combined with the loneliness of being in a foreign country causes her behavior to grow increasingly erratic and unpredictable. While the cast and crew grows more and more annoyed, Clark is captivated by her beauty and sees only a vulnerable and lost little girl. Sensing a kind spirit in Clark, Monroe unexpectedly latches on to him and seeks comfort from his company, much to the exasperation of her controlling entourage.
Williams does a commendable job capturing the essence of Monroe. She really exudes the same virtuosity that Monroe had, and a spotlight seems to follow her throughout the film. Her airy speech and fluid mannerisms are spot-on, as well as her wardrobe and makeup. She does a wonderful job of capturing both sides of Monroe: Marilyn the star and the vulnerable and lost Norma Jeane. Delivering a truly Oscar-worthy performance, Williams continues to prove herself as an extremely talented actress.
The cast is rounded out by a who's who of famous British actors, including Judi Dench as legendary actress Dame Sybil Thorndike and Emma Watson as a young wardrobe assistant.
It was nice to see Dench in such a kind and motherly role, offering advice to Clark and support to Monroe, as opposed to her usually rigid and intimidating characters. However, it was a bit of a disappointment how small Watson's role is, as her character merely serves as a distraction for Clark until his relationship with Marilyn fully develops. As Watson was lauded for her first big role after the Harry Potter series, fans were expecting a bit more.
Worthy of honorable mention is Branagh as Olivier, who really does a stupendous job. The audience practically feels his temperature rise as he grows more and more exasperated with Monroe's behavior. Aided by a well-written script, Branagh really does deliver some of the most memorable and hilarious lines of this film.
Fans of Monroe will enjoy this closer look at the legendary screen icon. We really do get a sense of how alone and vulnerable Monroe felt, despite being constantly surrounded by people. Additionally, it is remarkable to watch how Monroe deliberately puts on a show for her fans, at one point asking Clark, "Should I be her?" when a group of adoring fans suddenly surrounds her. It appears as though Monroe's greatest role was not on  screen, but rather the larger-than-life persona she was forced to portray in her everyday life.
Overall ,this film is a truly interesting look at the captivating enigma that was Marilyn Monroe. Williams is spot-on with her impersonation, channeling everything from her appearance to her mannerisms. The love story is a poignant one, and although we do not really know for sure how accurate Clark's memoirs are or what really happened that week in the summer of 1956, we can only hope that it was as beautiful as this movie suggests.