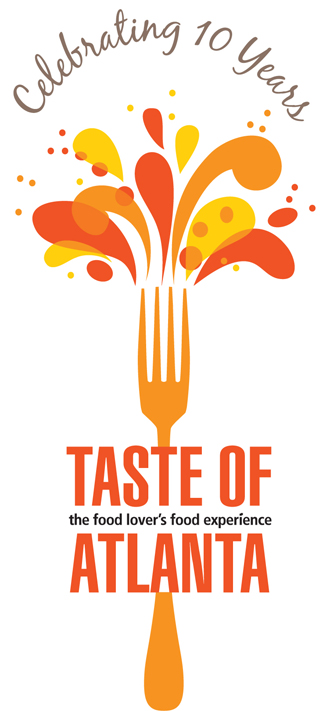 The wildly popular Taste of Atlanta returns for its tenth year to showcase the city's wildly diverse culinary landscape. Held in Tech Square, this outdoor food and drink festival has grown to host over 80 restaurants that will be cooking up samples for attendees throughout 5th Street and Spring Street, and attracted over 40 thousand attendees in the previous year.
More than simply offering samples, numerous events will be held throughout the weekend. Returning this year is the Home Plate Main Stage, where top chefs will compete against one another in culinary challenges, with topics such as recreating "The Best Thing I Ever Ate," and the "BBQ Throwdown." The Inside the Food Studio makes a comeback as well, where attendees will enjoy unique food and beverage samples while learning new cooking skills and recipes. As in years past, live musical performances will also be playing throughout the weekend.
Marking Taste of Atlanta's tenth year is the Friday night party, "The Big Grill." Aaron Sanchez of Food Network and Kevin Rathbun will be hosting the event to celebrate the event's tenth anniversary with delectable dishes, birthday cake and fine beverages on the menu.
Other than its extremely convenient location for on-campus students at Tech, Taste of Atlanta is an excellent time to expand one's dining horizons and learn where to eat in the city.
"Taste of Atlanta is the best, and most cost-efficient way to get an idea of what's available in Atlanta. For $25, you get to try dishes from dozens of great restaurants and learn a few new things while you're at it," said Dale DeSena, the current president and cofounder of Taste of Atlanta.
"We've had Taste of Atlanta in Tech Square for three years now and we don't plan on moving. We love the location." DeSena said.
A new feature that has little to do with eating, but everything to do with making the festival easier on attendees, is the newly-released Taste of Atlanta iPhone app. This app contains a schedule of events, a detailed map with locations for every restaurant and venue and a menu guide that displays what restaurants are serving. An Android version of the app is in development.
Whether one is a connoisseur or a casual diner, eating for one or going with a family, Taste of Atlanta always draws out a crowd to try what the best of Atlanta's chefs have to offer.