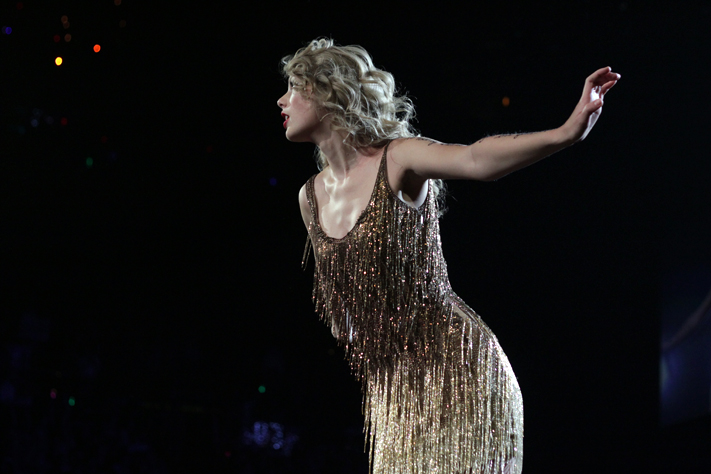 Originally scheduled for July 9 and 10, the Taylor Swift concerts packed Philips Arena this past weekend on Oct. 1 and 2. While the songstress proves popular on the charts and with fans, her musical abilities do not quite match up with her popularity.
Her stage presence seemed lacking, but her appreciation for the crowd was genuine. Especially with surprise guest, T.I., the energy and excitement at sold-out concert at the 21,000 person capacity venue was palatable. The popularity of Taylor Swift is undeniable. She has won Grammy awards, sold over 4 million albums and broken Guinness World Records. And not without reason. Her songs speak to the everyman in America, well, the every-girl, anyway. She is country enough to be different than every other pop act and mainstream enough to win the hearts of millions of fans.
For others, however, she is neither here nor there and therefore nowhere at all. She is not country enough to be country and she's not a soulless pop princess either; she has just enough flavor to be adored by the mainstream and mainstream enough to be popular in the country sector. And on top of all of this, she even has a modicum of talent. There are better instrumentalists than Swift. There are certainly better singers. There are better writers, but none of them are probably as good-looking (or young).
What Swift does is win the hearts and minds of her audience through an honest, relatable style that young people will identify with and older people will reminisce about. She typically uses real names to yearn for love lost or love found. While it seems kind of silly, it is an effective method which her album sales prove.
While Swift can crafts songs masterfully, she cannot sing them. Her voice is sweet enough and does not sound shrill or raspy, but it is no wonder she got sick and had to reschedule her July concerts. She struggles with notes outside her comfortable speaking range and pushes so hard to hit them that if she is not careful, she may damage her voice. This is not a problem in the studio where black magic abounds to put even Rihanna in tune, but live performances may surprise some people who are familiar with her unchallenging songs.
But really, this can even make her more endearing to her fans, who probably do not know much about singing either. But what Swift lacks in vocal ability (and dance moves) she makes up for in authenticity. The show has theatrical moments with elaborate sets and a little story telling, but the backup professionals were much better at hitting their marks than Swift.  Amazing wire-ballet and fireworks were exciting and frame Swift well, who herself eschewed the more challenging theatrics. Instead, she connects with the audience and brings them into her world. This sells the tickets and the albums and generates millions of fans across the world. The singing can be faked and the dancing left the to professionals, but this ability to send her emotions and thoughts to the audience is real.
And her fans definitely were receiving them. When Swift took the stage, a scream rattled the foundations of Philips Arena which resonated far above the treble clef. Dogs in a three-mile radius howled, and bats fled for their lives. Surprise guest T.I. did nothing to quiet the audience. The shrieks of delight only let down during the songs, when every member of the audience was singing along, including the older people/chauffeurs (parents). Swift brought out tens of thousands of different people two nights in a row. This kind of popularity has at least a kernel of verisimilitude in it.
Swift is immensely popular, with good reason. She has a loyal fan-base of a surprisingly diverse people who do not really mind that Swift is not a skilled singer. Instead, fans love Swift for her blend of honesty and approachability, which carries her far. She connects with the audience and doesn't let go. And while she may not be a natural-born stage queen, she loves her audience and that love is reciprocated in spades. The Swift machine is just getting revved up and at this rate, Swift will be blending country and pop for years to come.