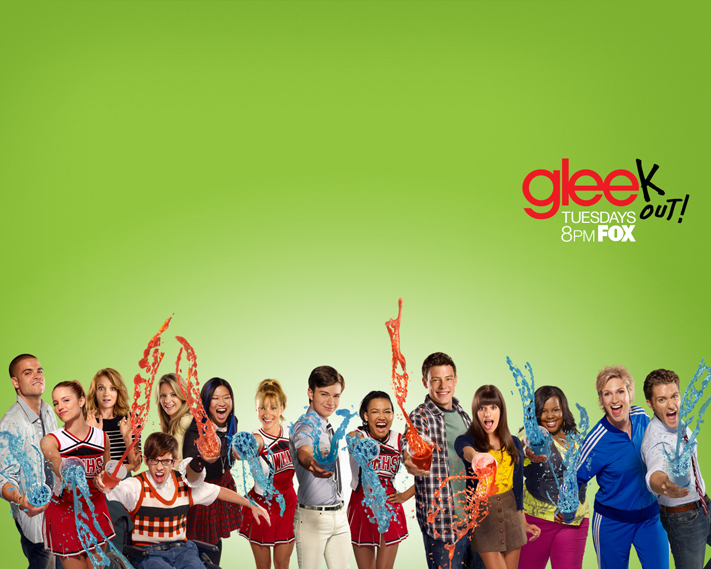 Season three of Glee started out with a bang by introducing new faces, incorporating Broadway classics and reaching for even bigger goals along with the traditional inclusions of messy relationships and comical drama.
The episode was appropriately titled "Purple Piano Project" as Will Schuester, the glee club's advisor, devised a new assignment to inspire the students to share their musical talents when he strategically placed purple pianos around the school's campus.
In true Glee fashion, their first attempt to advertise for the club was anything but a success as the only results of their cafeteria performance of "We Got the Beat" were a food fight and horrendous auditions.
The performance was a nice change from the traditional Glee solos, though, as more characters were given a chance to shine and show off why they are an essential part of the cast.
A couple of the characters whose times on Glee have ended or were reduced in season three were Sam, the "trouty mouth" singer, and Lauren, Puck's lover that got away. Glee made sure they incorporated new characters to make up for the loss of the others by introducing Mercedes' new man, Marcus, and Sugar Motta, a dramatic and talentless singer with self-diagnosed Asperger's who believes that she is the missing ingredient that will lead McKinley High's glee club to a nationals victory.
The class distinction was finally brought to light in this episode where it was revealed that the characters Artie and Tina are still juniors. Although the majority of the characters will be graduating in the upcoming season, Artie and Tina will remain, which may or not be enough to maintain the show's insane popularity.
A major focus of Glee's season premiere was the future, a prospect that uproots indecision and excitement for the seniors of McKinley High's glee club members. Rachel and Kurt maintained their focus on the Big Apple with their incredible performance of "Ding Dong the Witch is Dead," complete with a full band, choreography and themed props. The characters held onto their high hopes until they traveled to a mixer for one of New York's most prestigious performing arts colleges and realized that there are aspiring performers who are just as brilliant as they are. Lindsay, a finalist in the Oxygen show Glee Project, guest starred with a brilliant rendition of "Anything Goes," justifying Rachel and Kurt's concerns.
Glee maintained its optimistic attitude by concluding the characters' rough experience with the two effectively motivating one another to continue to reach for the stars.
Sue Sylvester, the coach of the McKinley's cheerleading squad and Will's archenemy, returned with anything but a shortage of witty comebacks. She is in the running for office and, for her new campaign, she advocated against the arts in school. The revelation of her radical goals inspired a drastic change in the polls and she successfully climbed toward the top. Will struck back with his newfound manhood, but, of course, his plan backfired and Sue was even better off than she was before.
Relationships were once again a focal point of the show where the couples of Rachel and Finn and Mercedes and Marcus took a backseat to a couple of relationships that continued to develop throughout the show. Blaine, a member of the Warblers, one of the glee club's biggest competitors, transferred to McKinley to spend more time with Kurt while Emma, the OCD guidance counselor, attempted to loosen up to make her and Will's relationship more like an actual relationship.
A major character transformation occurred in the premiere as Quinn, the church-going, cheerleading captain of glee club became an edgy, rebellious character with pink hair and an "ironic" Ryan Seacrest tattoo.
Apparently she could not handle the pressure that came with being the school's most popular girl, but it seemed as though her new look attracted a lot more attention than what she was getting before. Throughout the episode she refused to return to the glee club, but in the end she was spotted watching their performance in the auditorium.
The show concluded with the announcement of Kurt's campaign for class president and the glee club's fantastic, purple-infested performance of "You Can't Stop the Beat." The clip of next week's episode promises even more plot twists as Rachel's mother returns with news that will cause Puck and Quinn to reunite, ensuring plenty of drama.
The season premiere offered quite a bit of new material, much improved choreography and solo-sharing. Although it was not the most incredible episode, it was a great start to a season that is sure to be full of plenty of guest stars, controversial issues and, of course, phenomenal performances.