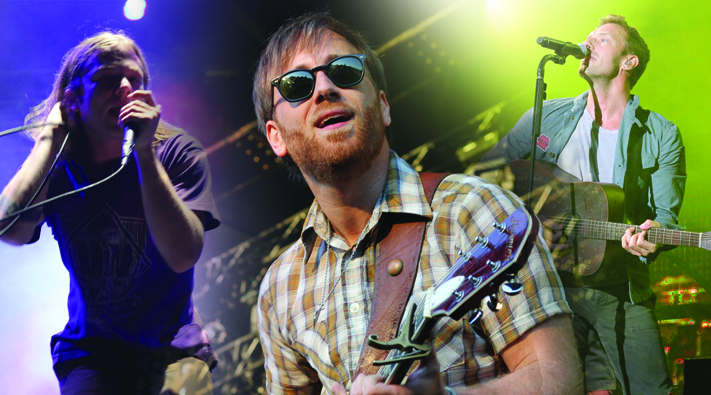 After a six-year hiatus, Atlanta's premier music festival, Music Midtown, was back in full-force on Sept. 24. Now consolidated into a single Saturday, the festival aggregated a series of bands into a compact, non-stop train of musical and aesthetic pleasure.
Taking place in the large grass sprawl of Piedmont Park, the festival was bursting at the seams with hordes of music fans, likely numbering in the tens of thousands. There were two elaborate stages, one on each side of the park in order to make the transitions between bands as immediate and smooth as possible.
Veteran band Coldplay headlined the day's events. The remaining performances consisted of bands mostly conceived in the last decade: The Postelles, The Constellations, Walk the Moon, Band of Skulls, The Joy Formidable, Manchester Orchestra, The Black Keys, Cage the Elephant and Young the Giant.
Casting such a wide net with its lineup, the festival easily made sure that they had a band for everyone.
Despite the other great performances, the concluding concert by Coldplay was, by and large, the biggest draw for vast portions of the audience.  While most other bands opted for sparser, stripped-down performances, Coldplay came out firing all guns, attacking the audience's senses with blasts of music, color, lasers and giant balloons.
Coldplay's performance was as visual as it was aural. Starting off with elements of their classic repertoire, such as "Hurts Like Heaven" and "Yellow," the band interlaid the music with various sensory sparks, such as huge laser displays and fireworks.
As much as there was to hear, there was even more to see, with lights and visuals, such as the colorful spray painted outfits and instruments. Massive moving screens flanked each end of the stage for audiences further in the back.
Midway through the show the band delivered a tribute to the recent break-up of one of Georgia's own bands, R.E.M. Playing a cover of one of their more popular songs, "Everybody Hurts," frontman Chris Martin gave a eulogy for the band and noted that he will miss them, while looking up at the sky.
The group also performed songs from their upcoming album, Mylo Xyloto, including the latest single "Paradise."
Somewhere through the performance was a rendition of their de facto band anthem, "Viva La Vida."
With the crowd swelling in delight, the band engaged the audience through the piece, particularly during the chorus. Sounds of the wordless choir emanated from the audience in drunken revelry long after the song had ended and another had begun.
After a brief pause, the band wrapped up their performance with their old signature, "Clocks," as well as their new one, "Every Teardrop is a Waterfall." It was at this moment that the lights and lasers truly reached a paramount level, engulfing the sky in a sea of color and filling the stage with a giant portal-like circle of eclectic colors.
The other bands delivered a slew of performances that varied from decent to great. Young the Giant in particular was a pleasant surprise because it combined soft rock with a rawer, independent sound. At times the music sounded almost ethereal, yet still maintained a light-hearted West Coast feel.
"A big part of us is our acoustic roots," Young the Giant said.
More so than most of the other bands, Young the Giant's show emphasized crowd participation with lots of clapping and singing from the audience. They ended their performance in a dissonant, yet sweeping and slow ballad, fading out on a whistling and eerie choir.
An earlier band, Atlanta's own The Constellations, gave a unique performance, blending cosmic tones with 70's-style synthesizers, Rhodes pianos and bongos.
This was done in conjunction with lyrics delivered by singer Elijah Jones through a mixture of rap and singing. While most of their songs were upbeat, there were a few slower, somber ones speckled with down-tempo, lingering bass lines.
However, their performance ended with the song "After Party," an engaging piece with a country beat, yet a strong resonant voice.
"Our objective as a band is to make you have a good time," Jones said.
Other notable performances included Walk the Moon, which was an unusual mix of electronica, heavy beats and distortion. This was all combined to generate a synthesizer-heavy, pop-oriented sound.
Switching from soft to high intensity, they engaged in softer ballads, such as "I Can Lift a Car All by Myself," and songs like "Shiver," which was a mix of fast-paced singing and rhythmic guitar riffs.
The Black Keys were also noteworthy with their grungier band of garage rock with an almost Southern feel.  Their stage set-up was particularly unique and featured a giant totem pole, a dream catcher and fire.
Other performances included Manchester Orchestra, which played in darker, harsher tones than the rest of the musicians: Band of Skulls, a heavy hard rock reminiscent of classic punk-groups such as The Ramones, The Joy Formidable and Cage the Elephant.
This festival had elements of music for all palettes. While Coldplay was definitely the dominant force of the night, both musically and visually, the other bands had plenty to offer in terms of new and unique music.
Anyone who wants to discover music that's new and exciting will find something here next year.