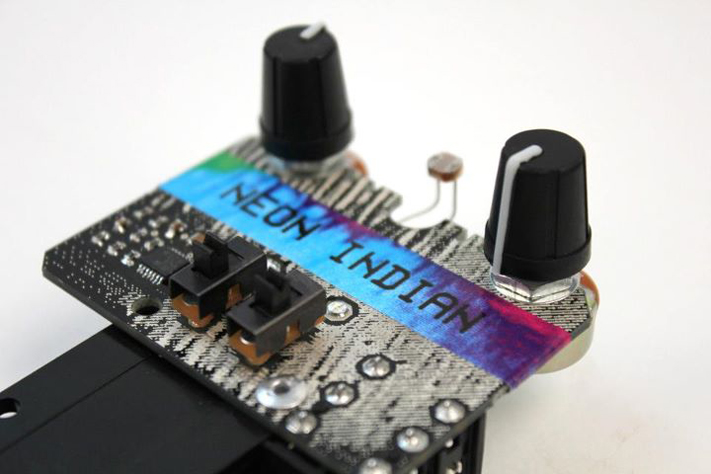 The dimming streets of Midtown Atlanta on Monday, Sept. 19 seemed to foreshadow little more than an evening of post-summer, pre-autumn purgatory and metropolitan blues—that is, until Denton, Texas' Neon Indian rose from the primordial sludge of this deceptively barren evening to perform at the Masquerade.
Fans of every feather flocked to this spectacle in celebration of electronic musician Alan Palomo's recently released and widely anticipated Era Extraña, which presents an appropriate maturation in theme and style from 2009's Psychic Chasms.
Opening act Com Truise provided for a somewhat underwhelming prelude to the feature presentation, offering potent beats mired in aimless and repetitive melodies, but was soon applauded off the stage in favor of Palomo and his crew. Although the band's equipment fit neatly into a small van, the ensuing audiovisual explosion could be compared to a magician pulling a handkerchief of baffling length out of his sleeve: opening with an electrified rendition of 2009 single "Terminally Chill," frontman Palomo sculpted an alluring soundscape marked by serene vocals gliding over jubilant waves of analog synth. Keyboardist Leanna Macomber's smooth vocal contributions, in addition to drummer Jason Faries' relentless beats, also added pleasantly surprising layers of complexity to this live rendering of new material.
While the ensemble took extra care to pay tribute to standout tracks off of Chasms, including the frustratingly catchy "Deadbeat Summer" and epiphany-inducing "Mind, Drips," the audience was also taken on an aural tour of less familiar ground covered in Palomo's sophomore effort. The glowstick-touting crowd jerked and swooned to the simultaneously taut and lax vibrations of "Polish Girl," and stood mesmerized by the melancholic murmur of instrumentals such as "Heart: Decay." The somewhat autumnal tone of the intermittent instrumentals also stood as an affirmation of Palomo's progression from the more carefree vibes of his debut record.
Palomo and his bandmates proved successful in creating an atmosphere of placidity without succumbing to insouciance—as the bass-heavy drum characteristic to the ruthless "Ephemeral Artery" resonated through the foundations of the building, one got the impression that the band and audience were enclosed within the atrium of a beating heart. The performance was also marked by an assortment of pink and blue lights that continuously dashed across the room, while a lone disco ball that hung from the ceiling produced an illusion of scattered stars.
In spite of the set list lasting a mere hour, Alan Palomo and his backing instrumentalists proficiently conveyed the musical themes of Era Extraña, all the while maintaining a friendly and energetic stage presence.
Although the section of the venue in which the performance was held is endearingly named Hell, Neon Indian managed to make Hell seem like a nice place to unwind.