While the slightly upscale eatery is not exactly cheap, eating "On the Lighter Side" offerings can be about $14 dollars per person, but showing your BuzzCard will get 10% taken off the bill—but remember to tip on the full amount. The brewery-cum-restaurant is conveniently just a stone's throw from campus between 6th and 7th Streets on Peachtree Street.
All of the options on the menu this reporter decided to sample were phenomenal. The freshness of everything being made from scratch is a huge success. The food at Gordon Biersch explodes with a homemade quality that is hard to get when going out to a national chain. The flavors are individual and mix in your mouth, not on your plate.
According to Jenny, Gordon Biersch waitress extraordinaire, the Creole Chicken, Mediterranean Chicken and Spicy Shrimp Stir-Fry are the most popular dishes.
The Creole Chicken explodes with awesomeness. It has a simmering heat, not a wildfire. The flavor and heat perfectly combine in the chunky jambalaya sauce that crowns the chicken. The sauce has okra and sweet peppers to give the dish a little crunch.
The Moroccan Salmon is spiced with cinnamon, coriander and others. It does not slap your mouth with these flavors, but leaves you guessing what it is. It is a subtle and curious seasoning that will entertain your mind as well as your tongue.
The Ahi Salad has an Asian feel with baby greens, carrots, taro, sprouts, thinly sliced ahi tuna and is served with soy sauce.
The Margarita Steak has a very subtle hint of lime to the great cut of beef. The lime slice garnish can augment this flavor even more if you squeeze lime juice on the steak.
The Spicy Shrimp Stir Fry has an interesting tomato flavor not expected in a stir fry. This pleasant surprise makes it feel more American, but the teriyaki flavor proves its Asian influence.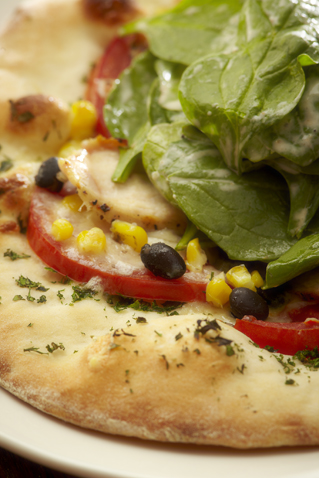 The only disappointment on the "On the Lighter Side" menu is the Mediterranean Chicken, which lacks both flavor and inspiration.
This new menu is great. It offers healthy food at a reasonable price. While it's not Taco Bell-cheap, Gordon Biersch makes the food from scratch with fresh ingredients, which makes the price of admission worth each cent.