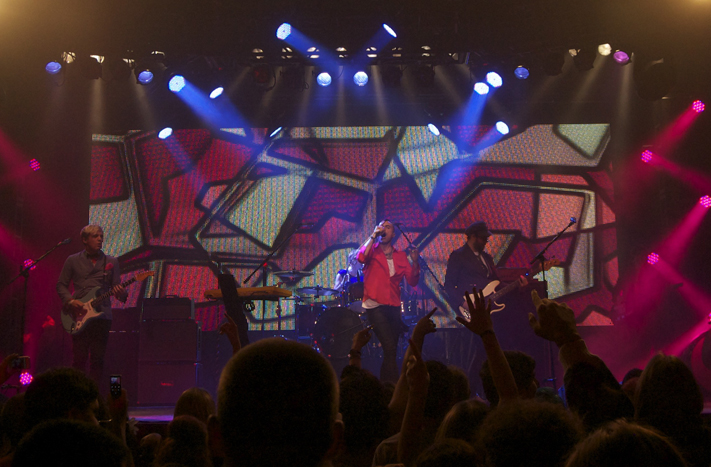 Can an alternative rock band top an admired Atlanta rapper in his hometown? That question was answered in concert form when Utah-based band Neon Trees engaged in a friendly "battle" with Ludacris as part of Red Bull's 2011 Soundclash this past Labor Day. Ludacris and Neon Trees performed on opposite stages to a single audience, facing each other for an unusual clash of styles, sounds and creativity that takes "concert" to a whole new level.
The event, which took place at the Georgia World Congress Center in downtown Atlanta, was a battle-of-the-bands style showdown with five rounds of criteria:
Round 1 — The Warmup: Each band performed three of its own songs.
Round 2 — The Cover: Each group performed its cover version of "P.Y.T." by Michael Jackson.
Round 3 — The Takeover: One band began one of its own songs and the other had to finish it in its own style. Each band had to finish two songs.
Round 4 — The Clash: The DJ picked three distinct musical styles, and each band had to perform a song of theirs in each style. The genres chosen were reggae, acoustic and heavy metal.
Round 5 — The Wildcard: Each group brought a surprise guest on-stage.
Round 1 proved that Ludacris entered the challenge as the crowd favorite, receiving the exact enthusiastic "Southern Hospitality" that he performed.
Round 2, however, demonstrated that the Neon Trees had an abundance of charisma, with a lead singer able to mimic the cadence of MJ and notable guitar riffs that the band has greater experience in delivering energetic performances.
During Round 3, the Takeover round, Neon Trees really dazzled the crowd by transforming Ludacris's "What's Your Fantasy" into something closer to a crooning love jam than the original lyrics of the raunchy song intended. The drummer, Elaine Bradley, took it to the next level by covering Nicki Minaj's verse on "My Chick Bad" while maintaining her drum arrangements. Although Ludacris opted to create his own rhymes to go with his band's performance of the original Neon Trees songs, his lyrical talent and clever phrasing captivated the enthralled audience.
Round 4 was the actual Clash, which left the crowd both excited and mystified.
"I never thought I would hear 'Area Codes' acoustically," said Georgia State student Ansley Barfield. "And hearing the Neon Trees perform reggae music was truly bizarre."
The final Wildcard round found the crowd's excitement to be palpable, with a giant inflatable zebra somehow finding its way at the fingertips of the packed crowd in front of Ludacris's stage. Anticipation and speculation regarding the identity of the surprise guests abounded.
The Neon Trees opted for classic audience involvement, giving out dozens of animal masks to their passionate fans to wear as they joined the band on stage for the performance of "Animal." The light-hearted song found an edgier vibe via Atlanta rap dup Big HEED and ALIen, who joined in with a call-and-response verse.
Ludacris opted for what he indicated was a "classic Atlanta staple" —strippers. They performed acrobatic acts on poles and the stage as Ludacris asked "How Low" could they go, and the flexible and astonishingly athletic females answered with a demonstration.
"I hope the crowd leaves here tonight feeling like this is the best concert they've ever been to," Ludacris said. "You're getting both artists at the same time and it shows how many fans just appreciate music, period."
Ludacris is at work on his eighth studio album Ludaversal. Neon Trees are currently on tour through Oct. 28.