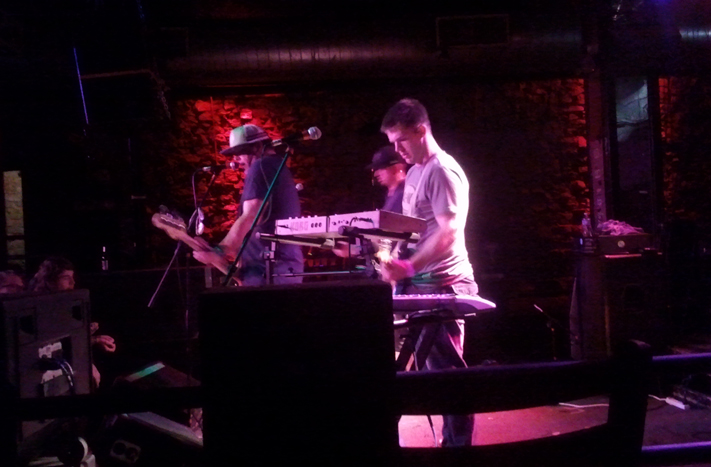 Those present for the Almost Legendary show Friday, Sept. 3, at The Masquerade jumped, danced and sweated their way through roughly 35 minutes of energetic pop music. While the crowd would have fit twice over into a Howie physics lecture hall, they made up for their lack of numbers by matching the band's enthusiasm for every note. Legendary was celebrating the release of its first EP, titled Bright Lights.
The band consists of four members: Bass and lead vocalist Mark Coryell, guitarist Chris Nixon, drummer Ryan Fox and guitar and keyboard player Brian O'Connor, CS 2008.
Coryell, a burly fellow with a softer-than-expected voice, enjoyed the spotlight for the majority of the show. Smiling throughout, Coryell used fast-paced bass lines to transfer his abundant energy to the audience.
"We want the audience to have fun. We want them want to come back and see us and tell all their friends about us. Unsigned bands make it big by generating buzz through word of mouth," Coryell said.
Legendary's buzz generating efforts date back to Sept. 2009, when Coryell and Fox decided to get a band together.
"Ryan and I had been in bands before, but nothing really worked out," Coryell said. "Two years ago we got together with Chris and found Brian through Craigslist. Everything just fit perfectly."
However, the show did not begin perfectly. Suffering through technical difficulties and perhaps one too many opening acts, with a total of three, Legendary did not play its first note till well after the 10:00 p.m. advertised start time.
That was quickly forgotten as soon as the band got into the meat of its set list, which had the crowd singing and dancing along.
"Just to see somebody in the crowd singing the words to one of our songs is awesome," Fox said.
Fox's goals are grand for Legendary. He hopes to be able to "quit his day job and have a full time night job [the band]." In order to do so, Legendary will have to have greater turnout during its live shows, as one could not help but notice that the crowd stretched only a few rows deep.
The majority of the music played Friday night stayed within the pop and dance punk range. Nixon described the exception to this as a "screamo" song, meaning a mix of scream metal and emo. Legendary worked well off the crowd's energy, amping their own enthusiasm up for a much-appreciated encore.
Above all else, the band shared a camaraderie that made for a special chemistry on stage. Fox cherishes this relationship, especially during time away from the stage.
If all goes well, Legendary will return to touring in the future.
"We really just want to play music," Coryell said. "We're looking to get on the road for three months next year. We want to get our name out there."