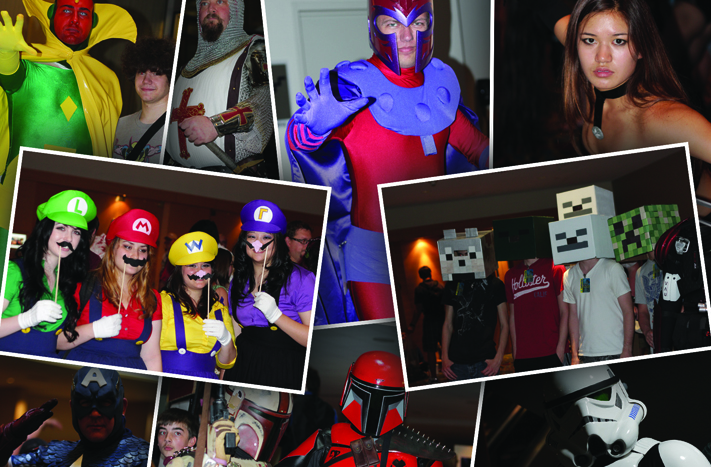 For the past 25 years, fans of fantasy and science fiction have gathered in Atlanta in the fall to attend Dragon*Con, the biggest fantasy convention in the world. This year the Con ran from Friday Sept. 2 to Labor Day, and was spread across five hotels. The Con's events were divided into forty different "Fan Tracks," or programming groups focused on diverse interests like alternate history, British sci-fi media, young adult literature, Star Wars and writing workshops.  Each of these tracks averaged ten to 12 events each day including readings, fan discussions, panels and screenings. In addition to all these events, there were also ongoing art shows and exhibits, a huge gaming hall, tons of vendors and celebrities available for autograph. Finally, the Con-goers themselves put on an amazing show, dressed up as characters from fiction, video games and popular culture.
Given this wealth of options, the most important part about attending a Con is planning a schedule to see the events you want. A huge number of events occur concurrently which can lead to some difficult choices, and many of the more popular panels require people to wait in line to reserve a seat a long time in advance. On the bright side, even if you can't sit in on a panel you wanted to see, there will still be plenty to do at all the hotels. The Hyatt boasted art shows for fine and popular fantasy art and an exhibit on weaponry. The Marriot hosted a phenomenally successful blood drive and  The Hilton's Walk of Fame allowed fans to meet some sci-fi and fantasy stars like Carrie Fisher, Felicia Day and James Marsters.
The Hilton also hosted plenty of opportunities for con-goers to get their game on. The galleria hosted trading card tournaments, table top role-playing games and miniatures games. There were stalwarts like Magic: The Gathering and Dungeons and Dragons, though there were also many titles I had never heard of. In addition to paper, plastic and cardboard options, there were also several digital offerings, including a hall of consoles with gaming tournaments and a group of MechCorps pods where players could go at each other head-to-head.
A person could also easily spend an entire afternoon shopping at Dragon*Con. Navigating the vendors at the Marriot was like stumbling into a role-playing game, thanks largely to what was on sale. In addition to a huge selection of comic books, fiction and nerdy tee-shirts, you could find a host of handcrafted items that feel like they belong to another world. There were fantasy weapons wrought from foam and steel, movie props, potion bottles, ocarinas, and a wealth of medieval and steampunk attire. Buying a fake broadsword may not make you stronger or give you magic powers like it would in video game, and barring a zombie apocalypse, it is a purchase that will probably see zero practical use. But while you are at the con, wearing a costume or simply carrying around a small prop does make a difference in your experience. If I had to single out a favorite moment at the con, it was when my black canvas duster and borrowed foam skull allowed a complete stranger to recognize me as Harry Dresden. For a moment I got to be a wizard.
Another definitive con experience was the fan-discussion panel on A Song of Ice and Fire, discussing the television adaptation and the recently released fifth book. Sci-fi and fantasy fans are often portrayed as fanatic devotees, or hypercritical basement dwellers, but the discussion played out as a lively, intelligent conversation with reasonable criticism and eager speculation. While you don't need to go to a con to talk about a book series, analyzing the subtle intricacies of a fantasy epic with an entire room full of fellow fans is far from an everyday opportunity.
The Con did have a few hang-ups, however. Trying to navigate the various vendor and exhibition halls on Saturday afternoon was an arduous sweaty slog. Being a Con-newcomer I was also unable to attend William Shatner's panel due to a combination of poor time-management and a monstrous line. I would also advise Con-goers to pack their own food and drink as on-site dining options were limited, expensive and un-nutritious.
Even if you have little interest in fantasy, sci-fi, anime or video games you should try to see the Dragon*Con parade, or at least drive through downtown while the con is going on. It is a one of a kind anthropological experience and a good opportunity to appreciate the artistry and dedication that goes into costuming. I would strongly encourage casual fans of escapist fiction who have always wondered what a convention would be like to take the plunge and purchase a pass next year, if only for a day. It is the proud nerds who don costumes and plan out their weekends, though, who will get the most out of Dragon*Con.