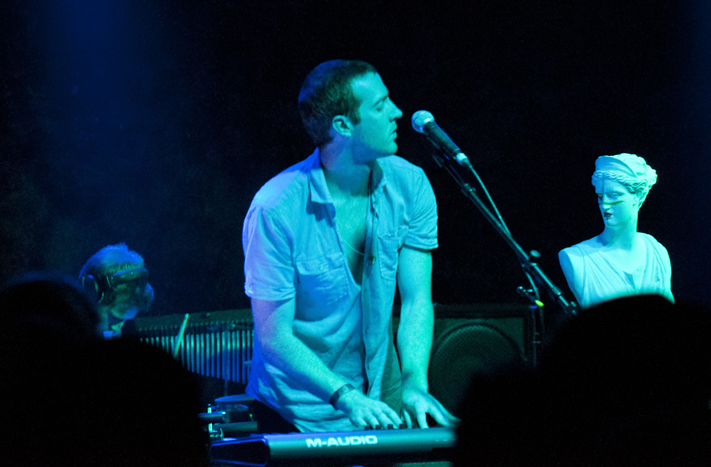 On Labor Day, while storms escalated in the Atlanta area and brought a dismal, overcast gloom to the city, Active Child lifted the mood of the fans at Atlanta's music venue The Earl by masterfully presenting their angelic, orchestral music.
It is often hard to accurately categorize a musical group according to standard genres or other adjective-based classifications, so a concise approximation of a band's sound is typically the best approach. Active Child's sound is musically analogous to gracefully ascending to heaven, and then taking part in one last dance party prior to passing through the pearly gates. It is music that is seemingly from another time and era, an intermingling of classical choral chants with New Wave instrumentation.
Active Child's front man Pat Grossi incorporates his harp-playing abilities with layers of synthesizers, drum machines and ethereal falsetto vocal harmonies to produce gorgeous, rhythmic music.
The opening act of the concert was Com Truise, an electronic group created by producer and designer Seth Haley. Haley describes his music as "mid-fi synth-wave, slow-motion funk." Truise's set consisted of up-tempo, bouncy instrumental tracks that filled the venue a little too well. Truise's songs contain excellent complex beat structures and intricately interwoven synth lines, but it can become slightly repetitive after a full set. However, Truise did a solid job of fulfilling an opening act's purpose: to begin to energize the crowd while ultimately preparing them for the main act.
Active Child's set focused on material from their newest album, You Are All I See, including the hip-hop infused "Playing House" and the gorgeously layered and driving "Hanging On." Two of the stronger songs of the set were "See Thru Eyes" and "Take Shelter." The two tracks are fairly different stylistically, with the former more of an homage to 80s new wave ballads while the latter veers towards a dance number. However, both tracks displayed similarities in the band's strong live qualities. The drum machine's crisp responses and expansive reverberations evenly filled the room and boosted the sound extensively, providing one of the most important aspects to the live performance. Along with that, the towering vocals and harmonious synth lines functioned precisely with the other key ingredient: the brisk, colorful harp. The use of this instrument added a necessary dimension to the band's composition.
In a time in music when musical acts like Bon Iver and James Blake strive towards perfecting the art of the soulful falsetto vocals and electronic fusion, it's nice to witness another musical group attempting a similar worthwhile task with a whole new view of the process.
Active Child produces powerful, enticing and uncommon musical compositions and melodies, ones that were reproducible in a live setting with ease and confidence. It was heavenly music capable of overshadowing a bleak, stormy day.