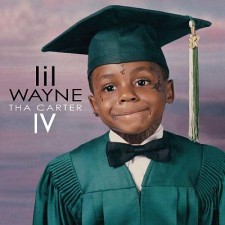 Upon first listening, Lil' Wayne's Tha Carter IV delivers a gut punch of heavy beats, absurdly profane lyrics, and witty quips about Lil Wayne's apparently abundant mistresses. Further examination will reveal, however, that Wayne has lost his edge. The dreadlocked, tatted up, gold toothed, self-proclaimed "best rapper alive" no longer holds the throne of King of Rap.
Lil' Wayne's fourth installment in the hugely popular Carter series, released Aug. 29, sports a price tag, as opposed to free-for-download mix tapes that comprise a majority of his mammoth body of work. While there are some good moments, he seems to be working with obsolete material. His act feels tired and irrelevant.
We have all heard Tha Carter IV's singles before due to regular radio play. You have "How to Love," a tragic ballad in which Wayne's nasally delivered singing voice soothes over a pleasant guitar riff. Also, the army march "6 Foot 7 Foot," produces bobbing heads. But to enjoy Lil' Wayne is not to enjoy the mainstream radio singles. No, fans will flock to the nearest electronic stores to get a taste of Wayne's growling, often times wickedly clever, and always unfit for unedited radio play delivery.
Prepare to be underwhelmed. The best moments of the album come from the plethora of guests, including Rick Ross, John Legend, Drake and others. "It's Good" highlights the second half of the track list and is comprised of Drake, Jadakiss and Lil' Wayne posturing to heavy beats. In a clear case of student surpassing teacher, Drake's verse outshines Wayne's.
Perhaps the most obvious flaw in the album is Lil Wayne's bigger-than-God self-image. His hyperbolic rhymes render him not only too big for his britches, but also as a clown more than a musician. Take the song "President Carter." While still sporting a parole officer, Wayne will have us believe that he is fit to lead.
I think not. Perhaps the marijuana that he raps about in "Blunt Blowin" has fueled this preposterous fantasy.
Tha Carter IV will satisfy some fans, however, the truth remains that relative newcomer Kid Cudi and veterans Jay-Z and Kanye West are shaping the future of the genre.
Tha Carter IV serves as a bellwether of Wayne's passage from the prime of his career into an afterthought. For diehard Lil' Wayne fans, revisit Tha Carter III for more fun and better music.